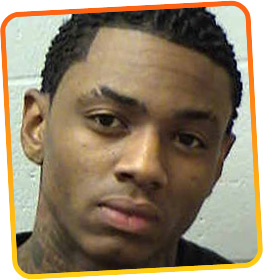 Young rap star Soulja Boy thought it'd be cool to get ghost on the cops Wednesday night (Oct 7) … so they arrested his azz!
TMZ says an officer received a call about a group of young people hanging out at an abandoned house in the Henry County area in the rapper's home state of Georgia. Authorities close to the case say when the officer arrived at the vacant house, he saw a group of young women walking towards the yard and when they didn't stop after he asked them to, he followed them to the house, where he saw about 40 people in the yard.
When the people at the house spotted the cop, half of them, including 19-year-old Soulja Boy Tell 'Em (real name: Deandre Way) ran off! The cop stuck around and spoke with the people who stayed, and they all claimed to be at the house for a music video shoot. When Deandre made his way back to the home to get his Range Rover, he was arrested for obstruction of justice, which is only a misdemeanor. He was taken to the jail and released.
Soulja Boy is set to perform tonight at the 2009 BET Hip Hop Awards in Atlanta.
Be the first to receive breaking news alerts and more stories like this by subscribing to our mailing list.