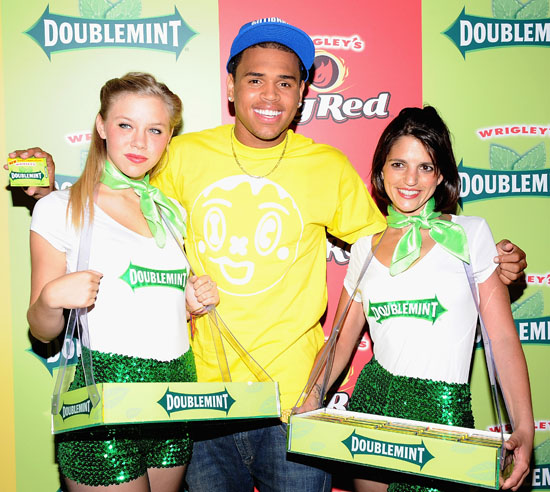 Now this is what we call reaching! Wrigley, who dropped Chris Brown after he was charged with assaulting Rihanna, is planning on suing the singer to regain the millions of dollars they spent on his endorsement deal.
According to Janet Charlton, "Chris had apparently signed up for another five year stint with Wrigley and finished a number of commercials when the Rihanna incident happened. Wrigley pulled his ads and fired Chris. Now they are said to be preparing to sue Chris for all the money they lost due to his bad behavior. They spent big bucks on ads featuring Chris along with other celebrities like Jay-Z and Mariah Carey. Since Chris was in them also – everything had to be ditched. Wrigley is mad and we hear they hope to recoup the money Chris caused them to lose with a big fat lawsuit."
Wrigley was one of a few major endorsement deals that Brown said goodbye to after the assault and the company is reportedly mad about their loss and are trying to get their money back. Now, we know what Chris did was wrong and we don't endorse violence in any way what-so-ever. But Wrigley needs to chill out on this one. They were fully aware at how much they would lose before they dropped his campaign altogether, so to turn around and blame this on Chris' actions is kind of confusing. We're sure Chris has other endorsements from companies that didn't drop him just to make a point (or attempt to save face) like Wrigley did. Now it sounds like Wrigley just might be regretting that decision of theirs.
Be the first to receive breaking news alerts and more stories like this by subscribing to our mailing list.