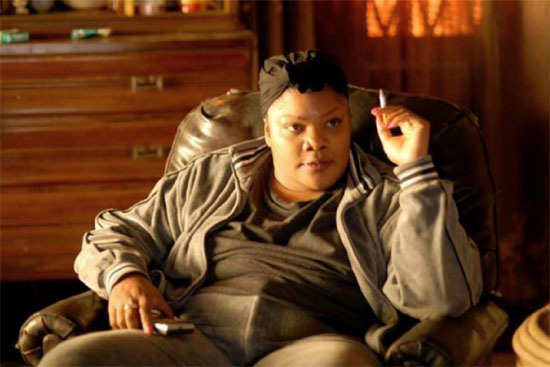 There is still a month left before the anticipated movie "Precious" hits theaters on November 6th but there is already drama surrounding the film, or more-so, its actors. According to "sources," actress Mo'Nique, who is a favorite for an Oscar nod for the "Best Actress" category might jeopardize her chance at winning the award. Lionsgate executives claim that Mo'Nique has "a bad attitude and a shameless demand for money" and that her actions might cost her her nomination.
The NYDN says the 41-year-old comedienne/actress turned talk show host didn't show up to Saturday's big debut at the New York Film Festival, and on top of that, she neglected her promotional duties at the Toronto Film Festival in Canada back in mid-September.
"That money didn't even include hair and makeup costs. She also demanded that her glam squad fly first class," sniped an incredulous industry source. "Apparently, she's ignorant as to how the Hollywood system works." According to our snitch, exasperated studio chiefs suggested that executive producer Oprah Winfrey get involved to deflate Mo'Nique's substantial ego, but even O couldn't stop the actress from seeing green.

"Mo'Nique said she signed on to do this film for a small amount of money. She said she didn't care about 'no Oscar' – all that mattered was 'those Benjamins!' Because Oprah and Tyler Perry are backing the film, she feels as though there should be a budget to pay for her promotional duties," the source explains.

"When people say, 'You care more about money than winning an Oscar,' well, what does an Oscar mean? An Oscar means more work when you win it, and that means more money!" retorts Mo'Nique in response to the allegations. "I couldn't eat that Oscar. Everybody needs money, baby. That's how we survive, right?"
We're not sure who to side with on this one, but we don't think an Oscar nod should be taken from someone because of their "bad attitude." You win the award because of your talent and how well you portrayed your character in the film. Nothing should affect that. But if this is true, we suggest Mo takes a moment to chill out because Oscar nod or not, this is bad publicity.
Be the first to receive breaking news alerts and more stories like this by subscribing to our mailing list.