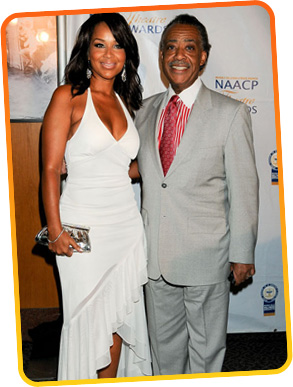 LisaRaye has responded to the rumors of her getting it in with Rev. Al Sharpton to get in good with politics saying that they are absolutely not true. Her rep stated that the actress, known for wearing white 24/7/365, and the famous political figure are part of a White House educational tour, of which politician Newt Gingrich is also a part of.
Rumors sparked when the pair started showing up at events together all of a sudden, and TheYBF put up a story Tuesday (Sep 29) reporting that the two were indeed a couple, citing an anonymous source who just so happened to be a major industry publicist. But what made the story seem to true was the fact that both of them are going through divorces right now, so the opportunity just really seemed to set itself up.
Here's what we know: A few weeks ago our source (a MAJOR publicist in the industry who shall remain nameless) told us that Al and LisaRaye–both barely divorced–are indeed together now. When we asked the obligatory "WTF?! Why?" The answer is because Lisa knows she's not getting into any of these "society and political" events without a man who could bring her along. She's also starved for media attention–surprise surprise–so Al is her "In" into that world. And Al–well he's just happy to say he can have a chick that looks like LisaRaye on his arm and whose perm looks better than his. The two have been confusingly spotted at a few events together like the NAACP Image Awards and Michael Jackson's memorial services…

SOURCE
But according to S2S Magazine, that story isn't true. Al and Lisa both contacted the magazine, dispelling them and giving their two cents.
LisaRaye told us that she and Al are part of a White House educational tour, which also features Newt Gingrich. Both LisaRaye and Al are going through divorces now, but as for rumors of their coupledom, Al told S2S publisher Jaime Foster Brown that he thinks it's one of the most ridiculous things he's ever heard.

"I went on an 80-city tour with Hillary Clinton and nobody ever accused me of sleeping with her," Al pointed out.

SOURCE
But then again, that could be a cover up. Who knows? One thing we do know is stories like these aren't very rare. Need we remind you of Whitney Houston and Ray J?
Be the first to receive breaking news alerts and more stories like this by subscribing to our mailing list.