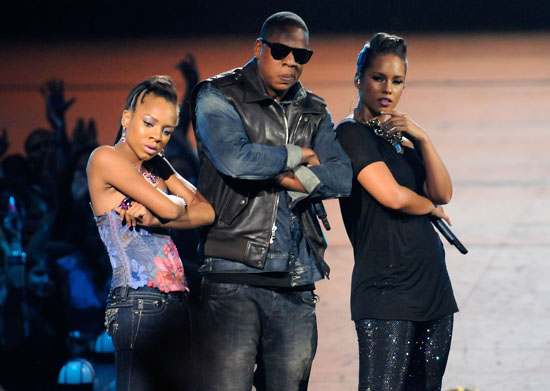 It's no secret that Jay-Z didn't take kindly to Lil Mama crashing his performance with Alicia Keys at the VMAs, but a new report goes a bit further into detail. Apparently, he was so mad Beyonce had to eventually calm him down:
Though he tried to stay cool onstage, a backstage source tells us, "He went ballistic. He was screaming at the MTV producers about the lack of security. He apparently thought at first she was just a fan. Beyonce finally calmed him down."

SOURCE
He also chatted it up with Hot 97 today and said he'd "never have the nerve" to do anything like that, adding all of the hard work that goes on into planning and executing a stage performance. He even compared the Lil Mama incident to the Kanye West/Taylor Swift incident that happened earlier in the show.
"Me, personally, I would never do that," Hov told radio personality Angie Martinez. "I would never have the nerve to do that. It's just like, someone's up there performing…we went through rehearsals, we did run throughs and we worked really hard at the performance to put on a show for people and to interrupt that moment for us, you know, I don't think that was the right thing to do. I actually thought it was the equivalent of what Kanye did to Taylor Swift…And I'm cool with her being excited and all that but you have to understand, people put in work to make that performance happen, that took weeks…I was a little angry to be honest, but what I'ma do, fight Lil Mama? [laughs]"

SOURCE
We really need something new to talk about. It's been over a week since the VMAs first aired and people are still asking questions about this and the Kanye thing???
Be the first to receive breaking news alerts and more stories like this by subscribing to our mailing list.