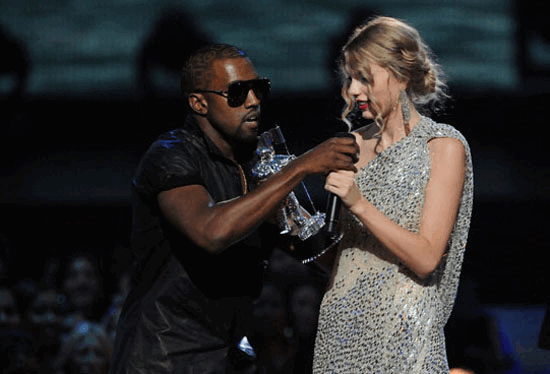 When Kanye West hit the red carpet with a partially drank bottle of Hennessy and started passing it around to everybody, we should have known the night wasn't going to go well. As country music star Taylor Swift accepted her award for "Best Female Video," Mr. West bum rushed the stage and snatched the mic from her hands.
"Yo Taylor, I'm really happy for you and I'm gonna let you finish … but Beyonce had one of the best videos of all time!" Kanye exclaimed to a booing audience.
The camera quickly cut to a very shocked Beyonce and by the time Kanye shrugged his shoulders and left the stage, Taylor was at a loss for words and didn't even get to finish her acceptance speech. What a way to remember your very first moon man. Kanye and his girl, Amber Rose, were later asked to leave the venue.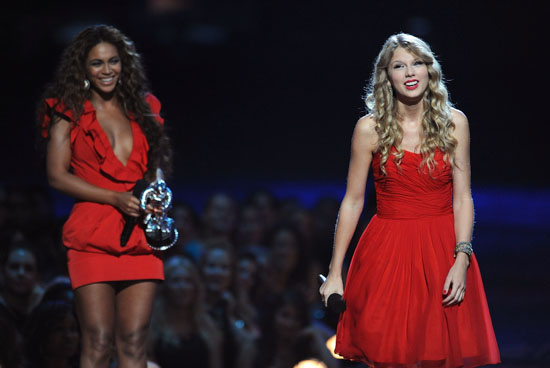 But near the end of the show, Beyonce's Single Ladies video won the award for "Music Video of the Year" and Beyonce, being the classy lady that she is, allowed Taylor to come up on stage and finish her acceptance speech.
"Thank you, wow … this is amazing," Beyonce said to the crowd. "I remember being 17 years old, up for my first MTV Award with Destiny's Child, and it was one of the most exciting moments in my life. So I would like for Taylor to come out and have her moment."
Continue reading for videos of the incident and Beyonce giving Taylor time to speak near the end of the ceremony…

KANYE WEST INTERRUPTS TAYLOR SWIFT'S ACCEPTANCE SPEECH
BEYONCE BRINGS TAYLOR SWIFT OUT TO FINISH HER SPEECH
Be the first to receive breaking news alerts and more stories like this by subscribing to our mailing list.