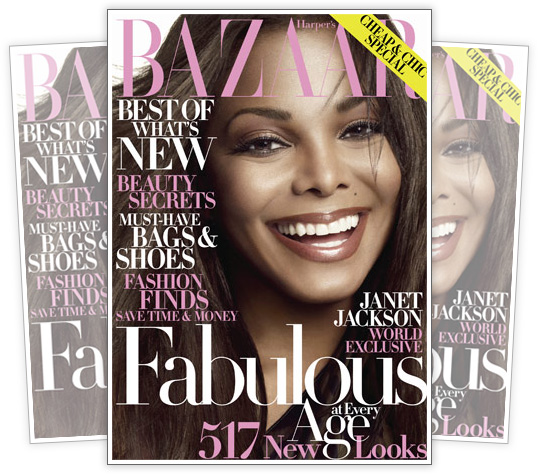 Janet Jackson gave her very first interview since the passing of her brother Michael Jackson to Harper's Bazaar Magazine. The pop diva is featured on the cover of the October 2009 issue of the magazine and talks about the last time she saw Mike, her break-up with Jermaine Dupri and everything in between. She even revealed that she's stayed away from the television, newspapers, the internet and the entire media in general ever since June 25th.
Janet Jackson hasn't watched television since her brother Michael died suddenly in Los Angeles on June 25. She has blocked herself off completely from the hysterical media coverage of his death — who did it, what did it. "It will drive you crazy," she says. "People can have rhinoceros skin, but there's a point when something's going to hurt you. Not everyone is stone, stone. I haven't watched the news in weeks. I had to ask my chef, How's Obama doing? I haven't read a newspaper. On top of that, [we've lost] a family member."

The last time Janet saw Michael was on May 14, two days before her 43rd birthday. It was a family celebration, the Jackson kids were running around, and she and her big brother hung out, ate Thai food, and tormented each other. "We had so much fun that day," she says, her soft voice almost inaudible. "We kept calling each other after and saying how great it was."

—–

Janet is also now single, recently breaking off her seven-year relationship with music producer Jermaine Dupri. Does she still believe in marriage? "For [some] people, sure! I don't know if I'll get married again. [She's been married twice, as a teen to James DeBarge and to choreographer René Elizondo.] I'll put it like this: If God wants me to, then I will." Dating? "Yeah, I've had people ask me out. I haven't entertained any offers thus far, but I'm locking myself in my work right now." Some might say boys smell anyway. "Yeah, they stink," she chuckles, "and they're dirty."
Visit Harber's Bazaar for more…
Be the first to receive breaking news alerts and more stories like this by subscribing to our mailing list.