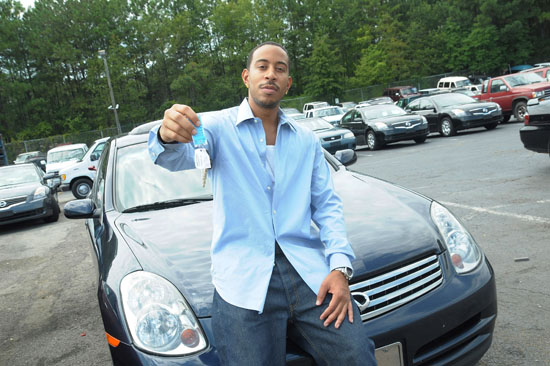 Rapper Ludacris gave away 20 cars in Atlanta at his "Stars for Cars Luda Day Car Giveaway" at Nissan South Sunday (Sep 6).
For his Stars for Cars giveaway, Luda read thousands of essays about contestants' inability to afford cars to commute to their jobs, and on Sunday, he partnered with an Atlanta car dealership to help out some of those fans. Twenty winners were chosen from the approximately 4,000 people who submitted their 300-word essays to the Ludacris Foundation explaining why they needed a car.

"People are getting laid off, and now are looking for jobs," the 31-year-old rapper said. "To be efficient, you need some transportation of your own to get there. That's why I wanted to give back to those who need it." In addition to the cars, they also got free gas for 30 days. The contest winners were, however, responsible for tags, registration, tax and insurance.

There was one contestant's story that particularly stood out for Ludacris. "His story touched my heart," Ludacris said about Mading Duor, a man who moved to the U.S. after his family was killed in Sudan only to have his son killed here by a drunk driver. "He's endured so much in his life and he's still here standing. I'm very proud to have helped him." Duor works at a school and explained that with his new car, he no longer has to worry about how he'll get there every day. "I'm so happy that I'm nervous," Duor, who won a Nissan Maxima, said. "When I look at my new car, I say to myself, 'Is this really happening?' "

SOURCE: MTV
Be the first to receive breaking news alerts and more stories like this by subscribing to our mailing list.