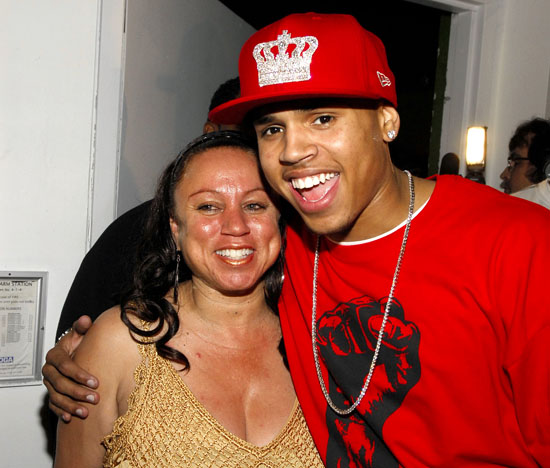 Chris Brown's mom/manager was advised to keep quit until the trial was over but nothing's holding her back from speaking her mind now that everything's said and done. In a public statement released Thursday (Aug 27), Joyce Hawkins thanks Chris' fans for their continued support, adding that this whole ordeal has been "the most painful moment" in her entire life. She goes on to thank God and says that Chris will be addressing all of his fans very soon.
I just want to say from the bottom of my heart thank you for your continued support. I'm sorry I wasn't allowed to speak to anyone as this case was on going. I can now say this has been the most painful moment in my entire life, but knowing that you were still standing by Chris side in his time of need made this a little easier for us. Because of all your prayers God brought him through. I just want to say God has never failed me and never will. All moms and dads please stand by your children and pray for their goodness each and everyday. Chris and I love you so much, as the tears fall from my eyes and the pain lingers in my heart I still say thank you God, thank you thank you almighty God. If any of you wonder why I continue to speak of God it's because I know no other way. I made a promise to him I would never be ashamed of him no matter where I am or who I talk to. You see this whole thing isn't about Chris it's about God. He wants to show all of you the goodness of him through Chris. Chris will be addressing all of his fans very soon. We love you so much and so does God.

Thank you.
Meanwhile, Chris Brown, his mom Joyce and his lawyer Mark Geragos sat down in an exclusive interview with Larry King Live early Thursday (Aug 27) for Chris' first public interview since the Feb. 8th incident, ET Online reports. They say Ms. Hawkins got emotional and almost started crying during the interview, which is set to air on CNN next Wednesday, September 2nd.
Be the first to receive breaking news alerts and more stories like this by subscribing to our mailing list.