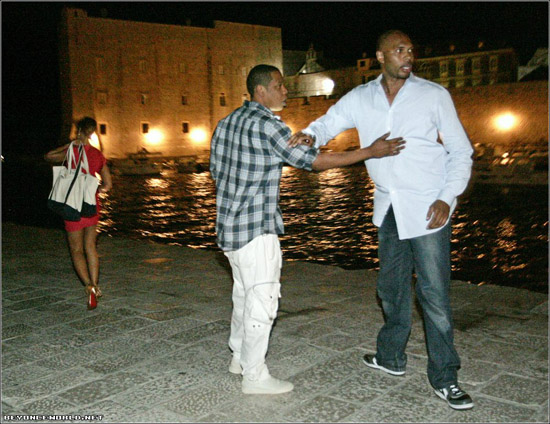 An investigation has been launched in Croatia following an altercation between Beyonce's bodyguard Julius and local paparazzi. Officials have charged the handler with assault and destruction of property after he got into with the photographers/cameramen on the scene trying to get shots of Beyonce and her husband Jay-Z as they vacationed in Croatia. Footage of the incident was posted to YouTube (check it here).
Footage of the incident shows the bodyguard, named only as Julius, wrestling with snappers in an alleyway as the couple leaves a restaurant. Jay-Z is heard calling after him, "Let's go, let's go, don't worry about it" and "stop stop stop". The tape then cuts to a scene as the pair and their entourage are boarding a boat. One of the snappers is seen throwing a piece of camera equipment at Julius, which he then tosses into the sea.

At a news conference held in Dubrovnik on Thursday (20Aug09), three photographers alleged Julius made threats, physically attacked them and damaged their property in an incident not seen on the short video. Police spokesperson Marija Genero has now confirmed the local authorities are investigating the claims.

SOURCE: CONTACT MUSIC
So the dude gets charged for doing his job?! That's crazy! If he gets charged, so should the photographers for provoking him.
Be the first to receive breaking news alerts and more stories like this by subscribing to our mailing list.