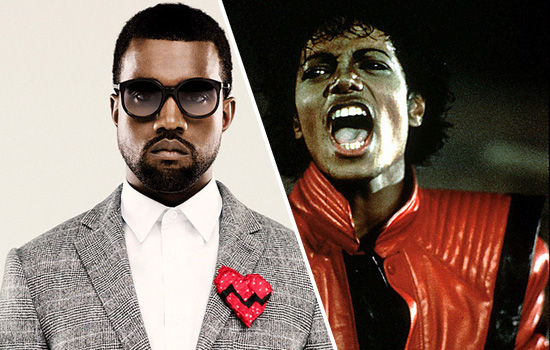 We're not sure if you caught the "update" to our original story of Kanye West supposedly campaigning to be the new King of Pop, but it turns out the whole thing was fake and if you notice, the website we sourced the story to has a disclaimer at the bottom basically saying you should take everything posted on the site with a grain a salt. And in true Kanye fashion, the Chicago bred rapper himself has responded to the bogus story with a message all in caps on his personal blog:
I WAS JUST LISTENING TO WENDY WILLIAMS AND HEARD SOME QUOTE ABOUT ME SAYING I'M THE NEW KING OF POP. NOT ONLY DID I NOT SAY THAT, I HAVEN'T SAID ANYTHING. IT MAKES ME FEEL BAD THAT OBVIOUSLY I MADE PEOPLE FEEL THAT I WOULD BE CORNY ENOUGH TO SAY SOMETHING SO WHACK AFTER THE PASSING OF AN IDOL, A LEGEND AND MORE THAN THAT A HUMAN BEING WITH FEELINGS AND FAMILY. IT SCARES ME TO THINK WHAT PEOPLE WILL BELIEVE, WITHOUT EVEN A SOURCE. ANY RANDOM PERSON CAN TYPE SOMETHING ON THE INTERNET AND THEN THE WORLD BELIEVES IT. I DON'T TALK TO PRESS OR DO TV OR DO PROMOTIONS OF ANY SORT. I'VE STOPPED CHASING AND BUYING INTO FAME. FAME IS LIKE CIGARETTES WITH NO SURGEON GENERAL WARNING. IT DESTROYS MOST PEOPLE AS IT DID TO THE TRUE AND ONLY KING OF POP. WE EXPLOIT OURSELVES AND EAT OUR OWN EGOS 'TILL THERE IS NOTHING LEFT. I HAVE A FEELING THAT THIS WON'T BE THE LAST FALSE STATEMENT WITH MY NAME ON IT, BUT THIS WILL BE THE LAST TIME I DEFEND MYSELF. I'M DONE.
Now, we're not going to lie. That satire website had us fooled for a minute, but we still didn't put it past Kanye to come up with something that crazy and outlandish. C'mon now, it's KANYE we're talking about here! But we're glad to know dude hasn't completely lost his mind. With this recent (and last) explanation, we'll be sure to give our boy the benefit of the doubt in future cases.
Be the first to receive breaking news alerts and more stories like this by subscribing to our mailing list.