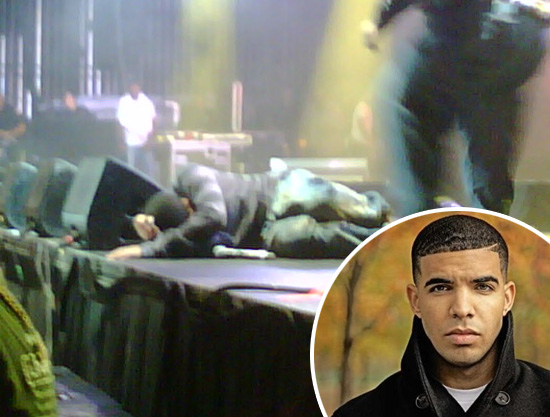 Up and coming hip-hop artist Drake, whose "Best I Ever Had" track has been burning up the radio and is currently sitting at No. 2 on the Billboard Hot 100, suffered a painful injury Friday night (Jul 31) as he performed with Lil Wayne at the Camden, New Jersey Stop of the America's Most Wanted Music Festival.
Back in June just days for the 2009 BET Awards, he tore his ACL while playing basketball, which reduced him to doing his performance on a stool. And though he only does three songs every night of the tour, he took a risk by ignoring doctor's orders and performing for the concerts in the first place. But Friday night as he and Wayne performed, just before his hit single "Best I Ever Had" hit the first chorus, Drake did some sort of spin move and twisted his already-injured knee, which caused him to suddenly collapse on stage. He didn't even get to rap one bar.
He put his head down because he was in so much pain and then 4 guys ran out on the stage and had to carry him off. Lil Wayne was left onstage in a state of confusion. Sources say that Weezy then said to the stunned crowd, "Damn, I knew that n—a's knee was bad, but I didn't know it was that bad! I thought he was just in a wheelchair on T.V." Then Wayne had to keep the show going, so he performed "Mrs. Officer," with Shanell and T. Streets (normally, Drake performs the song with Wayne.), and then "Every Girl In the World," again, sans Drake. Meanwhile, backstage, paramedics cordoned off a section and were examining the injured star.

SOURCE: MISS INFO
Weezy got jokes! Continue reading to check out a video of the fall…
In an interview with MTV last Sunday (Jun 26), Drake said himself that he was going against doctor's orders by performing on the tour.
"I didn't really get any approval from my doctor, but I made a personal decision 48 hours ago that I'd be letting a lot of people down if I didn't show up and at least show them I'm there for them. For the last two weeks, I've been really going hard, getting all types of acupuncture, trying to bring the swelling [in my knee] down. I'm walking around — no cane. I'll put a brace on it tomorrow night. No one will probably even know I'm injured."
Then he revealed how serious his injury was, saying that he may not be able to walk again if he isn't careful.
"I'm not doing my own set. That's one thing I have to apologize to my fans about. It's too much of a risk, if I hit that wrong turn [doing] 30 minutes every night. If I tear my ACL again, the doctors say I might not be able to walk again. I have to be cautious."
No official word on exactly how serious the Friday night's injury was, but we're hoping Drake gets better soon and finally gives that knee of his a chance to rest!
Be the first to receive breaking news alerts and more stories like this by subscribing to our mailing list.