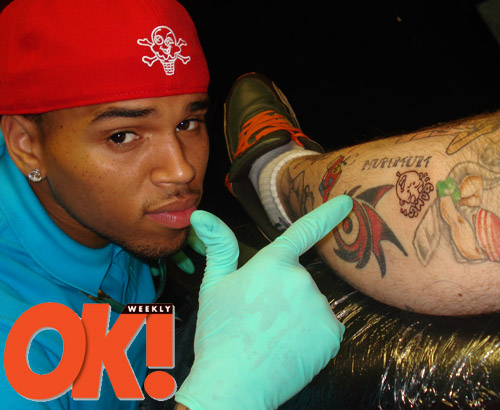 Looks like Chris Brown and Rihanna have a mutual friend! Last Tuesday night (Jul 28), Chris came up with a little tattoo sketch of his own and permanently etched it to Keith "Bang Bang" McCurdy, the guy responsible for Rihanna's most recent tattoos.
After Bang Bang pimped Chris's forearm earlier in the week, the "No Air" star agreed to return the favor by putting a cartoon face on Bang Bang's leg with the word "Bang" above it. "He drew it," Bang Bang told OK!,""It's pretty funny. I told him, 'Do whatever you want,' and he drew something and I liked it. He did a great job too. He's a natural, which is funny because I said the same thing about Rihanna. She was really good the first time, but he was better. He wasn't nervous at all. I asked him if he was, and he said, 'Nope — not at all.'"
But didn't Rihanna almost get into legal trouble for doing the same thing?

Yes, she and Bang Bang broke a NY state law, which says that only licensed tattoo artists are legally able to give someone a tattoo, so Chris and Bang Bang drove a couple of hours out of the state where it's legal for anyone to use a needle as long as they're in a licensed parlor.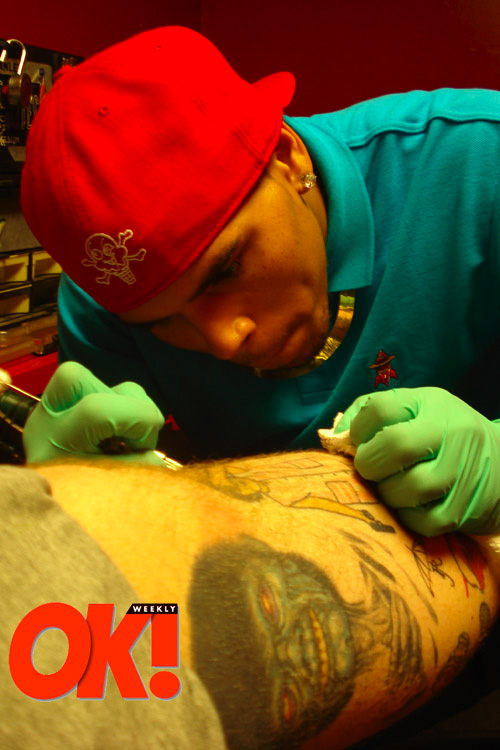 "We took a ride in a car to a different state so that he wouldn't get in trouble," said Bang Bang. "We drove for a couple of hours to do a five minute tattoo."

So was it worth all the trouble, and how does it feel to have the artwork of so many famous people indelibly etched on your body? "Awesome! I'm lucky. They're all really cool and I've got a couple of other famous people who are going to tattoo me soon," said Bang Bang. "I'd like to have all the celebrities I tattoo do a small tattoo on me. I think that would be really cool."

SOURCE: OK! MAGAZINE
It's a good thing they used their heads and travel outside the state to avoid breaking any laws. We all know Chris doesn't need ANY more legal attention for a very long time, even if it's something as simple as him jay walking across the street!
Be the first to receive breaking news alerts and more stories like this by subscribing to our mailing list.