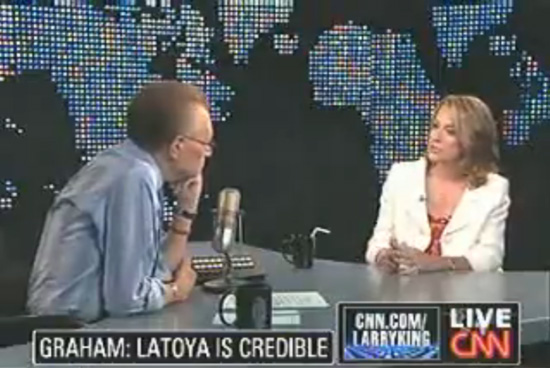 If you've been keeping up with the latest news on Michael Jackson's death, you will know that his sister LaToya has made it clear that she thinks Michael was murdered. CNN's Larry King spoke to the UK's Daily Mail correspondent Caroline Graham about the interview that she conducted in which LaToya makes her claims. You do not want to miss this interview:
LaToya may not be the brightest Jackson of the bunch, but her claims don't seem far fetched at all. Reports have stated that Michael was in good health and many cannot understand how he suddenly passed away. Even the video of his final rehearsal shows a healthy Jackson doing what he does best. There is definitely something fishy about his death. When you are as big as the King of Pop, expect people to try and take advantage of you.
Meanwhile, LaToya has released a new single as a tribute to her late brother. The single titled "Home" will be released to iTunes on July 28th and all proceeds will go to one of Michael's favorite charities.
Be the first to receive breaking news alerts and more stories like this by subscribing to our mailing list.