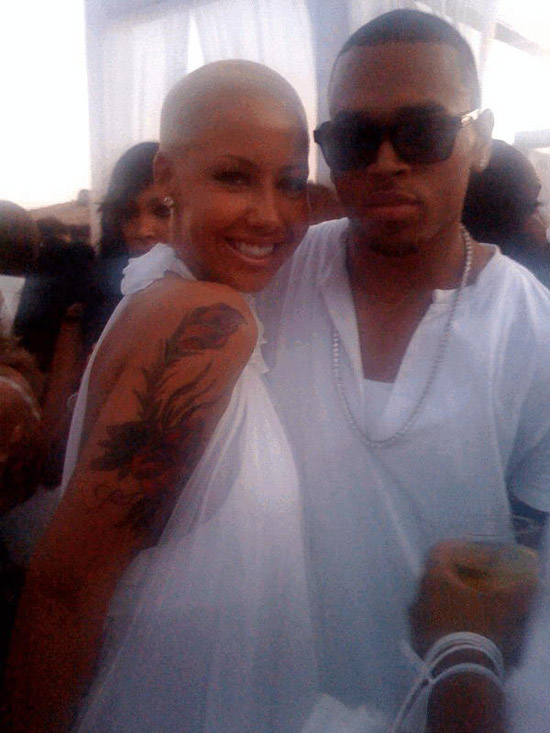 We're sure you've heard the stories surrounding Amber Rose and Chris Brown at Diddy and Ashton Kutcher's white party. They took a picture together (above) and more pictures were released of them getting a little "cozy" at the party. But according to Kanye's chick, rumors of  she and Chris Brown hooking up and being romantically involved with each other are totally false:
"I know Chris, cause I did the Ludacris and Chris Brown video. However, there is nothing romantic between the two of us, whatsoever, and I was definitely not kissing him. This is total fabrication by the media, but I don't let that kind of stuff bother me…I just laugh it off."

SOURCE: GLOBAL GRIND

Rumors began to swirl around the two after a "tipster" revealed some info to a popular gossip rag:
Brown, 20, arrived at the party with singer Teyana Taylor, an 18-year-old Rihanna look-alike, but is said to have hooked up quickly with Rose.

"Diddy announced the deejay would do a tribute to Michael Jackson," said a guest. "Chris did an amazing impression of Michael's moonwalk. It wasn't long before he was dancing with Amber."

Later, as the party wound down, the pair nestled on a couch in the backyard of the Beverly Hills mansion.

"They were holding hands and making out in the shadows," said a witness. "She had her hand on his leg."

Taylor is said to have been irked by the amount of time Brown spent with Rose, but still accompanied him to an after-party at the club Guys. There, Brown again got upclose and personal with Rose, who is 26.

"They were kissing on the dance floor in front of Teyana," said a witness. "But he and Amber left separately."

Some wondered whether the flagrant display was a defiant message both to Rihanna and West. Rihanna dumped Brown, who last month pleaded guilty to assaulting the Grammy winner. West, who has said he was "devastated" by Brown's attack on a woman who was like "my little sister," has run hot and cold on Rose lately. Although he reportedly broke up with her last month, they came together at last week's BET Awards show.

A rep for Brown had no comment. Reps for Rose and West couldn't be reached.

SOURCE: NYDN
Be the first to receive breaking news alerts and more stories like this by subscribing to our mailing list.