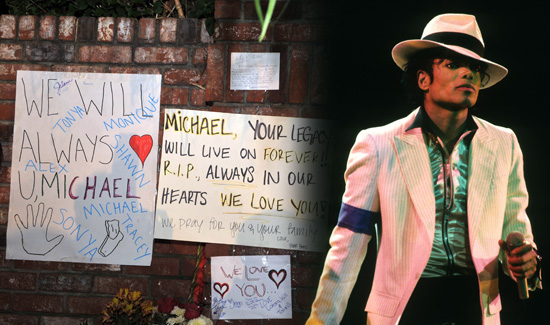 In the wake of Michael Jackson's shocking and equally heartbreaking death, everyone who's anybody has spoken up to tell the world what Michael Jackson and his legacy meant to them. This just goes to show the magnitude of the impact he had (and will continue to have, even in his death) on the entertainment industry as a whole. Throughout the day, we will be posting official statements reflecting on the King of Pop's legacy from the biggest names in music and entertainment. Stay tuned!
Lil Wayne: "I personally can't believe it. But it's more unfortunate for the world of music. … My love goes out to his family. … A sad day in history, not [just] music."
Snoop Dogg: "I feel like his music will never die and his spirit will never die, because he influenced so many if us. He gave us a lot of hope that we feel like we can be big. He was very inspiring and up close and personal with his fans. That to me was special. That's one of the things that I loved about Mike. When I got a chance to meet him, that's the feeling and spirit that I got from him."
Timbaland: "He was just a fabulous guy. Phenomenal. I watched him as a kid and I was like, 'Man, he works very hard.' His music was incredible. Everybody from Chris Brown to everybody who started dancing — he influenced all of that."
Fat Joe: "This is probably [among] the top three worst days of my life. MJ — you know I'm a gangsta rapper so we always got that hard edge, but at the end of the day, the king is the king. I can go down the list: there wouldn't be no Usher, there wouldn't be no Chris Brown. There wouldn't be nobody without MJ. There wouldn't be no Justin. He was just harmony on Earth. I never think MJ ever did anything wrong in his life. He was just a beautiful soul on this earth."
Rev. Run: "The thing that went through my mind was that he lived so big. He just worked it so hard. He was such a big imagination. He danced, he sang, he pushed so hard to entertain us. He was so driven that it was really amazing. I think the best thing that Michael will leave is his ability to captivate people. He captivated us."
Be the first to receive breaking news alerts and more stories like this by subscribing to our mailing list.