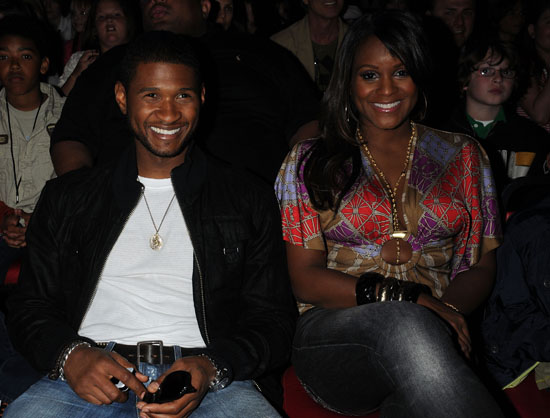 So it's official … Usher and Tameka are over! Recently confirmed reports state that the R&B singer filed for divorce Friday (Jun 12) to begin the process of ending his two-year marriage to Tameka Foster. The petition, which was filed at Superior Court in Atlanta, did not list a reason for the split but insiders close to couple say they are not surprised.
"No one I've spoken to is surprised," a source close to the couple tells PEOPLE. "As bad as this is gonna sound, it was never a matter of 'I wonder if they'll divorce,' but more like 'I wonder WHEN they'll divorce.'"

Several sources paint a picture of a troubled marriage that started unraveling even before the couple's wedding in September 2007.
"They peaked before they even got married," a friend of Tameka tells PEOPLE. "Right after it was over, they started to drift apart. [Usher] just wasn't ready to settle down, at least not with her."

The source, who tells PEOPLE that there was no third party breaking up the marriage, says that Usher still lived like a bachelor. "He just wasn't used to calling her if he was going to be out late," says the source. "He didn't treat her bad. He just took her for granted."

As the marriage continued, friends noticed that Usher and Tameka were living separate lives. "They've been going their own way for awhile," says Tameka's friend. "They don't spend a lot of time with each other. When they were together, it was all about the boys."

Meanwhile, Foster's lawyer Randall Kessler tells PEOPLE he and his client will respond to the divorce filing in a "timely manner," saying, "We were hoping this case would be resolved privately, but since Usher filed it publicly we will have to respond."
They have two sons together, Usher Raymond V, who is a year and a half, and Naviyd, who is only about 6 months old. Which means that even with the divorce, Tameka should be pretty set for the next 18 years because you know she's going to cash in on that child support!
We told Usher not to marry that chick anyway. He just didn't listen. Now he's going to have to pay unnecessary money to settle a divorce from a marriage that shouldn't have even went down in the first place. You celebrities are going to learn to listen to us blogs one of these days…
SOURCE
Be the first to receive breaking news alerts and more stories like this by subscribing to our mailing list.