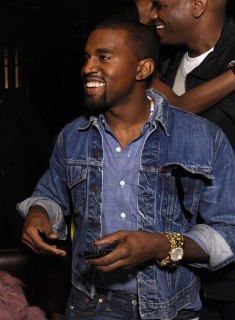 Rap artist Kanye West is jumping on board with the likes of other celebrities such as Nelly, Fat Joe, and hip hop mogul Russell Simmons to create a high energy drink of his own. Energy drink manufacturers Guru will create the drink for West, which will consist of only natural and organic ingredients with no additives or preservatives.
"I express myself through music, fashion, art and design and that's why I am excited to collaborate with GURU; because the brand values what I value, and I can put what inspires me into this new product," says Kanye.
West's focus doesn't lie solely on his product as he will also be apart of developing Guru's new drink which is expected to make its debut in the United States and Canada.
"We are thrilled to be able to collaborate in the development of a new Guru product with Kanye West, who's talent and creativity embody Guru's philosophy of finding your inner genius, nurturing it and helping it bloom," Ray Jolicoeur said in a statement, co-Founder of GURU. "GURU reflects the health and creative sensibility of today's consumer who is searching for a drink that reflects who they are and how they live."
So where can you find this tasty yet healthy energy drink once it launches? Don't fret, you'll be find it on Guru's official website, Whole Foods Market stores nationwide, and at 500 retail stores in New York City.
Make that money Kanye,  we're not mad at ya!
Be the first to receive breaking news alerts and more stories like this by subscribing to our mailing list.