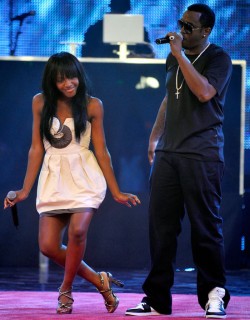 The Pussycat Dolls revealed to MTV in an exclusive interview that former Danity Kane member Dawn Richard is working with Diddy. Apparently, the Bad Boy HNIC will be forming another girl group and Dawn Richard is going to be a part of it.
"I know that Dawn is actually working with Puffy — and I probably shouldn't say it — and another girl, and they're going to do a group," PCD's Melody Thornton said. "So, big ups to you, Dawn Richard! … Kill it!"

When MTV News spoke to Richard earlier this year, she didn't mention anything about working with Diddy or another female artist. Rather, she seemed focused on trying to pick up the pieces of Danity Kane with fellow member Aundrea Fimbres. So we decided to reach out to Richard's management for comment on her future plans, but we were told that "at the present, we are not able to offer any comment on the matter."
Thornton seemed to believe that Richard is moving on. After getting to know her on the road — both Danity Kane and the Pussycat Dolls opened for Christina Aguilera on her 2007 Back to Basics tour — Thornton has high hopes for Richard's new career.

"Everything happens for a reason, without a doubt," she said. "We're here for a reason, you're here for a reason … the [Danity Kane split] happened for a reason, too. Everyone has amazing experiences so that they can learn from them. Everything's for a reason."

SOURCE
Be the first to receive breaking news alerts and more stories like this by subscribing to our mailing list.