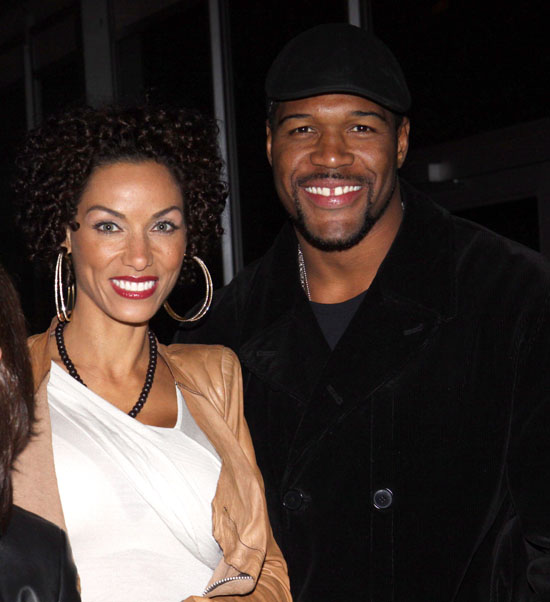 Your boy Michael Strahan plays no games when it comes down to making sure his women are being completely faithful. When the former footballer suspected his longtime girlfriend, Nicole Murphy, of cheating, he reportedly put a tracking device in her car. And sources say he wasn't too happy about her finding it. Murphy and Strahan have been a couple since 2007 and her five kids from her marriage with comedian Eddie Murphy are pretty fond of him, sources say. But Murphy was cutting out on Strahan with a record exec.
Murphy boasted in February 2008 that she and Strahan have a relationship based on "communication and shared interests." But she also had been sharing interests with Universal Records A&R exec Demetrius Spencer. Introduced by a mutual pal, Murphy had been "hiding" her affection for Spencer from Strahan "for almost a year," the sources said. Using the excuse of "business trips," a source said, Spencer and Murphy would jet off to exotic getaways in the Caribbean and Mexico.

For several months, the couple had exchanged gushing e-mails, professing their love for each other. In the notes, some of which were obtained by The Post, Murphy told Spencer she planned to come clean to Strahan about their relationship. Murphy also began to suspect Strahan was checking up on her. There were "too many instances where he knew where she was," said a source.

Things came to a head Feb. 20, after Spencer and Murphy took her Range Rover to a luxury dealership in Thousand Oaks, Calif.. Mechanics quickly discovered the tracking apparatus.

"This is the second tracking device he's had put in her car," one source said.
"This one was found behind the front dashboard." Murphy and Spencer went to have lunch while the tracer – which one source said provided up-to-the-minute location status – was removed.

Seconds later, Strahan barged into the garage, "yelling and screaming," a source said. Spotting Murphy's car with the tracking device exposed, Strahan walked over, ripped it off the dashboard and stormed out of the shop. Spencer and Murphy subsequently called it quits, but remain friends, said one source. In her e-mails, Murphy wrote she was reluctant to split with Strahan because he'd grown close to her kids.

Murphy's assistant declined comment. A rep for Strahan did not return calls.
Be the first to receive breaking news alerts and more stories like this by subscribing to our mailing list.