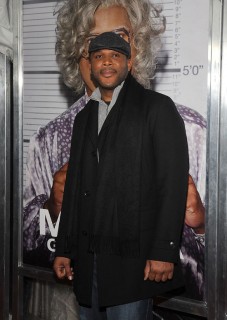 What do you get someone who has everything? Something really expensive, right? Something really REALLY, expensive right? Well, how about Tyler Perry plans on purchasing an entire island when he turns 40 in September. While he hasn't figured up a name for his private get-away yet, he's already revealed that it won't have anything to do with his more than famous name. Why? Because he's sick of seeing it every where!
"I'm a loner by nature, so when I'm out there on these islands, I just feel like the only person in the world," says Perry, whose latest film, Madea Goes to Jail, grossed a whopping $41 million its opening weekend.nAfter recently spending a week vacationing on a private island in the Great Exumas in the Bahamas, he admits it's not all relaxation: "Renting an island is the best place for me to work uninterrupted."

What will he call his own private isle? "It won't be Tyler Perry's Island!" he laughs. "I'm so sick of seeing Tyler Perry all over everywhere!" Instead, he'll wait until he's inspired by the exotic locale, which he hasn't quite decided on yet. "It'll speak to me," he says. "I'll know what to call it once I'm there." But he will put one rule into full effect: "There will be no paparazzi on my island!" he declares.

SOURCE
We pray to God this won't begin some ridiculously expensive trend amongst the rich celebrities. We could see celebrities doing something like this just to get away from the nosy paparazzi's flashing lights.
Be the first to receive breaking news alerts and more stories like this by subscribing to our mailing list.