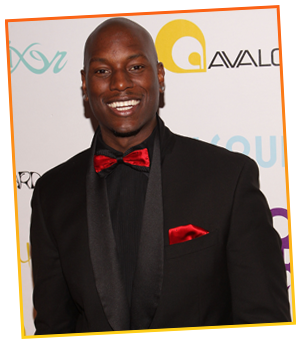 According to recently filed divorce papers, singer/rapper/actor Tyrese Gibson is facing legal trouble from his wife, Norma Mitchell Gibson. The documents say that she's claiming that Tyrese has been absent in their young daughter's life and Norma believes that she deserves "financial compensation," even though they've only been married for 10 months.
"Persons in the entertainment industry always seem to have a fascinating ability to characterize their life choices as somehow different, more important and not a matter of choice, but a requirement, entitling them to special rules and considerations," says Norma Gibson. Married for just 10 months according to radaronline.com documents, Norma Gibson says she deserves at least some financial compensation despite the short length of their marriage.

According to documents Norma says "He earned roughly $800k during the ten months of marriage". She goes on to say " a single mother with no family or friends, with effectively no funds whatsoever, to simply walk away from potentially hundreds of thousands of dollars simply because it is the petitioner's (Tyrese) position she must do so." Since 2007, Tyrese has appeared in several successful projects including the 2007 summer blockbuster 'Transformers'.

According RadarOnline, the singer/actor/rapper is due in court March 2.

SOURCE
Tyrese had a wife? Wow! …
Be the first to receive breaking news alerts and more stories like this by subscribing to our mailing list.