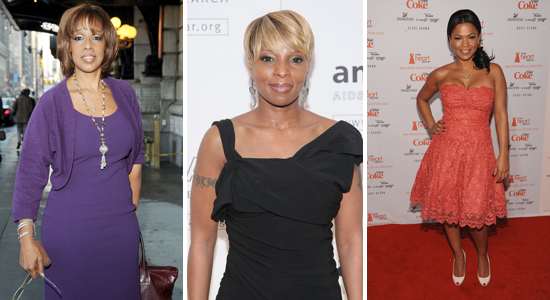 Days before the graphic photo of Rihanna's facial injuries was released, several stars were asked to weigh in and deliver their thoughts on the situation between Chris Brown and Rihanna, which occured about 2 weeks ago.
Gayle King: "I can't think of anything that makes me support anything that Chris Brown is saying at this time. And my heart just aches for Rihanna." (Extra TV)

Mary J. Blige: "They're both young and beautiful people, and that's it."

Nia Long: "I know both of them well. They're young, and all we can do is pray for them at this point." (US Magazine)
Ruben Studdard: "I'm still praying for him. Everybody always has something negative to say about everything, and I always try to be positive. They've both made wonderful careers for themselves, and I think they will continue to do so for the rest of their lives." (US Magazine)

Mark Curry: "Women, throughout history, have been beaten and prostituted. Even today in movies and music, they're portrayed as low-grade, so you know, he's a youngster, and he can correct his ways. It's just a tragedy – women and abuse." (US Magazine)

Lupe Fiasco: "They are great live and both are good people. It's a tragedy." (US Magazine)

Kellie Pickler: "I think the world would be a better place if people worried more about what they needed to do to be better people, than … judging others on what kind of people they are. I don't know what really went on with Rihanna and Chris, and I don't think anyone else does, either. The only people who really, truly know are only the two of them, so I am not going to assume or comment. I'm going to mind my own business." (US Magazine)

Lindsay Lohan: "I have no comment on that. That's not my relationship. I have no reason to speak about it. I think they're both great people."

SOURCE
Be the first to receive breaking news alerts and more stories like this by subscribing to our mailing list.