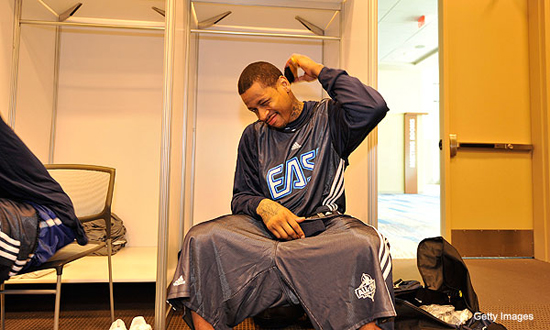 Allen Iverson chopping his braids off was the talk of NBA All-Star Weekend 2009.
For the first time in 13 years, the Answer buzzed his hair, sporting a new clean cut look just in time for All-Star Weekend. Not since his first couple seasons in the league have fans seen Iverson without his signature cornrows. In a video posts on Yahoo, A.I. showed up in the locker room for the All-Star when his NBA colleagues witnessed the shocking changed, howling and laughing at the sight.

"It's a wrap," Iverson says.

According to Yahoo's spots blog, it wasn't until the 1997 rookie game that the b-ball showed up with his now trademark braids. It was a straight East/West Rookie back and forth back then, no sophomores (that didn't take off until a year after the lockout year, which went without an All-Star weekend), and AI showed up with braids.
Looks like this is the beginning of the end of that cornrow trend. Carmelo, Trey Songz, Ludacris, Busta Rhymes (he had dreads, but still), Omarion, BowWow … the list goes on. Who's next? Lloyd told us back in July 2008 that he wouldn't be cutting his anytime soon, but… things change over time.
Continue reading to peep a shot of his teammates' reaction to his new look. The East ended up getting defeated by The West with a final score of 146-119. Maybe he should've kept the braids for luck?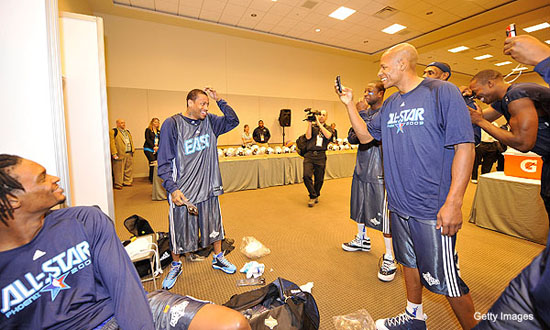 PHOTOS: GETTY IMAGES / YAHOO! SPORTS
Be the first to receive breaking news alerts and more stories like this by subscribing to our mailing list.