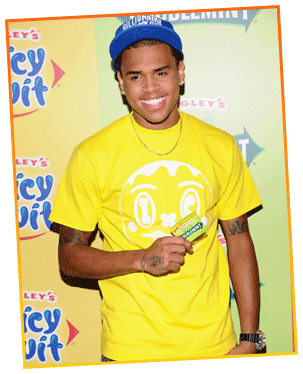 We all saw this coming, including Chris. Wrigley's announced Monday that they'd be suspending Chris Brown's Doublemint Gum commercial.
Wrigley said in a statement it was "concerned by the serious allegations" made against Brown, who was booked by police on suspicion of making a felony criminal threat. The company said that while Brown should be afforded due legal process "we have made the decision to suspend the current advertising featuring Brown…until the matter is resolved." Brown, who was competing against Rihanna in a Grammy category, was a spokesman for Doublemint gum and his hit song "Forever" was part of that advertising campaign.
Brown is also a pitchman for the long-running Got Milk? campaign, in which celebrities are photographed with a milk mustache. The Milk Processor Education Program said his participation was scheduled to end this week, as planned. "The Milk Mustache campaign is taking the allegations against Chris Brown very seriously," the Washington, D.C.-based trade group said in a statement. "We are very proud and protective of the image of the Milk Mustache campaign and the responsible message it sends to teens."

SOURCE
These companies don't play games when it comes to who they let represent their brand!
Be the first to receive breaking news alerts and more stories like this by subscribing to our mailing list.