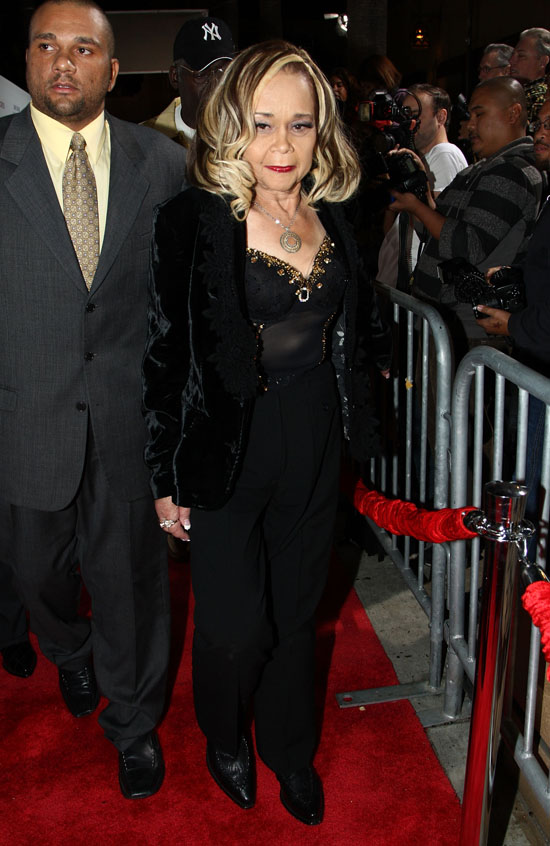 Etta James, who recently made a lot of noise on the internet when audio footage leaked of her making comments about Beyonce and President Obama, has apologized in an exclusive interview with the NY Daily News, saying that she was just kidding. She went on to say the only reason she kept going is because the crowd kept laughing. She said she's still hurt she wasn't invited to perform at any of the Inauguration Balls though.
"I didn't really mean anything," James said. "Even as a little child, I've always had that comedian kind of attitude. … That's probably what went into it." Still, James acknowledged being miffed she wasn't invited to perform her signature song for Obama's first dance with his wife on inauguration night. James said she was "feeling left out of something that was basically mine, that I had done every time you look around." She said she liked Beyoncé's performance, but when asked if she thought she could have done better, James answered, "I think so. That's a shame to say that."
James made the controversial comments before performing the song at a concert in Seattle last week. She began by saying of Obama, "You know your President, right? You know the one with the big ears?" She went on to say about Beyoncé, "I tell you that woman he had singing for him, singing my song, she gonna get her ass whupped." James said Thursday she kept the insults rolling only because the crowd was laughing so hard, a reaction that can be heard on a recording. "Nobody was getting mad at me in Seattle," she said. "They were all laughing, and it was funny." She said the jokes were "not from a vicious place."

James pointed out that she posed for a picture and spoke with Beyoncé last year before the premiere of "Cadillac Records," in which the young singer portrays the 71-year-old legend. As for Obama, James said she "always thought he was handsome and he was cool."

"I still had my joke about him," she said. "That might be horrible. The President might not ever like me in life." She questioned how upset Obama could possibly be about the barb: "He's got other stuff [to worry about] besides Etta James."
Be the first to receive breaking news alerts and more stories like this by subscribing to our mailing list.