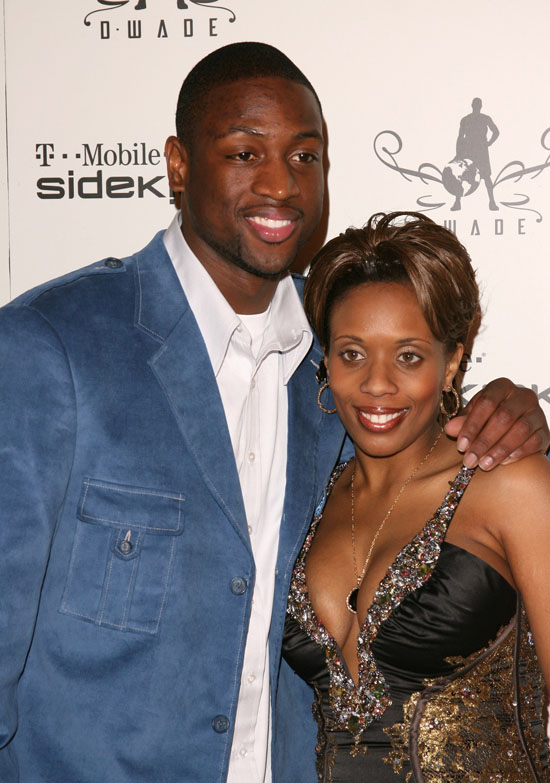 According to posts published by The Miami Herald, Miami Heat basketball star Dwyane Wade gave his wife of nearly 7 years a little more than what she asked for. Dwyane Wade and his high school sweetheart, Siohvaughn Wade, are in the process of getting a divorce, and according to legal papers, she claims that Dwyane gave her an unspecified STD, in addition to abandoning his children and comitting adultery, amongst other things.
Dwyane petitioned for the divorce last May in Cook County, Ill. They wed in Chicago on May 18, 2002. Dwyane's Windy City attorney, James Pritikin, issued a statement: "These malicious allegations are absolutely false and we look forward to the opportunity to dispute them in court." He and Siohvaughn, 27, have two boys, Zaire, a first-grader who will be 7 next month, and Zion, 1. Siohvaughn moved back to Chicago with the kids last year. Dwyane's Heat salary is $14,410,581, according to published reports. He hauls in millions more from major endorsements such as Gatorade and Converse. He has a dozen vehicles, including four Cadillacs, four Mercedes-Benzes and a Maybach, court papers say.
The All-Star has been romantically linked to actress Gabrielle Union, 36, once married to former Jacksonville Jaguar Chris Howard. From Siohvaughn's pleading: "Dwyane has dissipated substantial sums of marital property including . . . buying his mother a $2 million church; placing substantial sums of money in an account with another woman; providing numerous friends and family members with unfettered access to accounts with hundreds of thousands of dollars of marital funds from which they made substantial withdrawals . . ." Meanwhile, she says, he cut her off financially. Dwyane, named a "Father of the Year" in 2007 by the National Father's Day Committee, has gone "months" without seeing his boys, Siohvaughn says. His "failure to spend time with them . . . has resulted in the children at times being afraid of him; in fact, Zion . . . does not recognize or know Dwyane." She wants sole custody, and support.

She also says she has suffered "grievous physical, emotional and mental injury" from the STD, diagnosed in the fall of '07. (The infection is not HIV or a "killer thing," sources say.) Dwyane and his "paramour or paramours" are liable, she alleges. "Dwyane must disclose the identity of all of his sexual partners during the parties' marriage," says her counter-petition, prepared by attorney Michael J. Berger of Chicago. Siohvaughn has another Chicago lawyer, Dorene Marcus. Says Pritikin: "It is sad that an obviously angry and bitter woman will go to any lengths to publicly damage Mr. Wade."

Siohvaughn speaks the truth, Marcus insists. "A person's public persona does not necessarily reflect his behavior in private," Marcus adds. "Mrs. Wade is prepared to prove everything she alleges. And, medical records don't lie."
Be the first to receive breaking news alerts and more stories like this by subscribing to our mailing list.