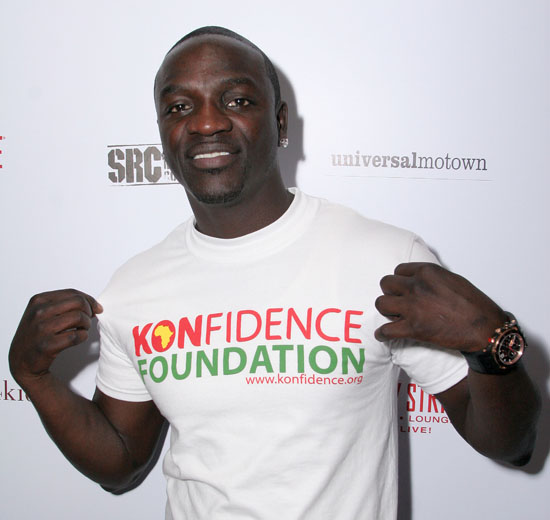 AKON PLEADS GUILTY IN FAN TOSSING INCIDENT » Singer Akon, and owner of Konvict Musik, reportedly pleaded guilty to harassment last week for tossing a fan from the stage during a concert last summer in Fishkill, New York. He accepted a plea deal in which he will serve zero hours behind bars, but he must perform 65 hours of community service, in addition to paying a $250 fine.
During a June 2007 concert in the small town of Fishkill, NY, the "Right Now (Na Na Na)" singer threw the boy off the stage, as in literally picked him up in the air, and threw him into the audience, after he had apparently thrown something at the 35-year-old singer. A woman in the crowd claims she suffered a concussion when the teen landed on her. The incident hit Youtube and subsequently every major website on the planet.
After accepting the plea, Akon shook hands with 16-year-old Anthony Smith, the guy he threw in the crowd, apologizing to him and his parents. Akon's lawyer released the following statement:
"We are pleased that the case has been resolved and Akon looks forward to putting this unfortunate incident behind him."
Akon's original charges included minor second-degree harassment and misdemeanor endangering the welfare of a minor.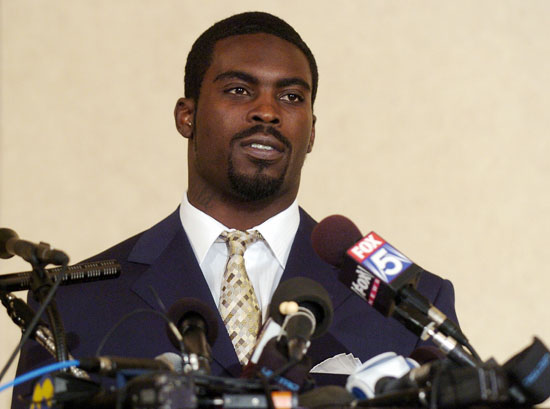 MICHAEL VICK MAY MOVE INTO HALFWAY HOUSE » After losing millions of dollars in endorsements, his multi-million dollar contract with the Atlanta Falcons, and basically ALL of his money, Michael Vick is now B-R-O-K-E. Broke as in having to file for bankruptcy broke. But, there's a silver lining in every cloud. Because of his financial situation, he could be moved from a federal prison in the Midwest to a Virginia halfway house by January 20th 2009. He's currently serving a 23-month prison term in Leavenworth, Kansas for holding and financing a dogfighting ring, and is scheduled to be released July 20th.
Last month, he pleaded guilty to a state dogfighting charge, which allows him to be released a few months earlier. This guilty plea also allows the option of him being transitioned into a halfway house. The suspended Atlanta Falcons quarterback's camp says that his long-distance absence makes it hard to continue with his bankruptcy proceedings in Virginia, so they are working with the courts to get him moved back to the state.
But, there's a flip-side. A bad flip-side. U.S. Bankruptcy Court Judge Frank Santoro ordered that paperwork must be completed to make sure Vick appears at a bankruptcy hearing set for Jan. 30th 2009 in Newport News, Virginia. Michael Blumenthal, one of Vick's bankruptcy attorneys, said that the paperwork could take weeks to process and could possibly delay the halfway house program. Blumenthal asked Judge Santoro to postpone the court hearing by a week so that Vick could be transferred before his required bankruptcy course, but Santoro refused.
"Mr. Vick came into this court voluntarily," the judge said. "I am not going to try to schedule around what may or may not be the convenience of Mr. Vick."
In addition to refusing to move the bankruptcy hearing, Santoro also rejected a financial disclosure statement Vick's laywers filed in the bankruptcy case, ordering him to submit a new one by Jan. 5th 2009. Major creditors objected to the statement because it "lacked sufficient detail about his finances," and "failed to back up his statement that he believes he will resume his NFL career after his release."
The new hearing has been scheduled for Jan. 30th 2009, and Vick must appear for another hearing on that same day to discuss whether or not a trustee should be appointed to take control of his assets.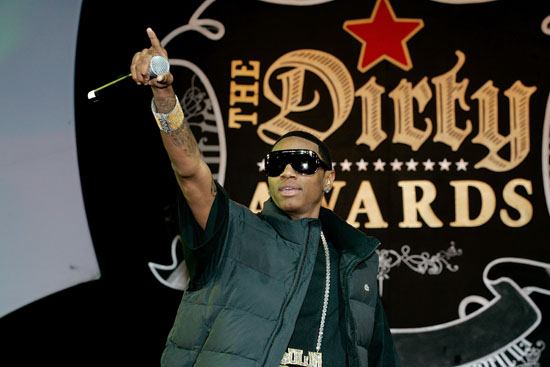 SOULJA BOY ANIMATED SERIES DUE IN JANUARY » A three webisode run is scheduled for an animated series based on rapper Soulja Boy Tell 'Em. The cartoon will make its debut in late January, and will be called "Soulja Boy Tell 'Em: The Animated Series." You saw a short little clip of it in Soulja Boy's new video, Kiss Me Thru the Phone, featuring Sammie.
The series follows an animated version of the young rapper as he returns to high school. Alfonso Ribiero (Carlton from "The Fresh Prince of Bel-Air") plays the school principal.
Be the first to receive breaking news alerts and more stories like this by subscribing to our mailing list.