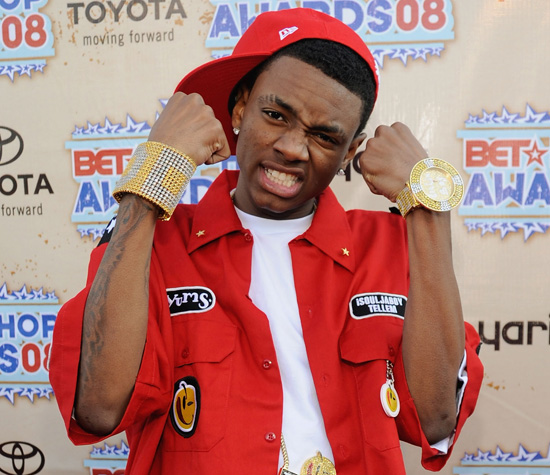 18-year-old rapper Soulja Boy, who made headlines about a month ago for making statements thanking slave masters, took time out of promoting his forthcoming album, iSouljaBoyTellEm, to donate toys to underpriveleged kids via a charity event called "Toyz N Da Hood."
Toyz N Da Hood was founded by Hittmenn DJ president Robert "Kaspa" Smith, and is partnered with the non-profit Kids with Strong Opinions, Inc. Together the two organizations reach out to Atlanta-based celebrities and present them with opportunities to give back to their native communities. Their past events included participation from Chris Brown, Akon, Young Jeezy, Polow Da Don, Mr. Collipark, and Devyne Stevens. As a Hip-Hop superstar that came from very humble beginnings, Soulja Boy jumped at the chance to assist in bringing a joyous holiday season to his young fans.

"It's all about putting smiles on kids' face this holiday season," Soulja Boy told AllHipHop.com. "I'm happy to do anything I can during these hard economic times to make a kid's holiday season a little brighter. Growing up I didn't have much, so I can relate to these kids and know how important it is to them. To see how excited they get when we donate all these toys is worth anything I can do to make that possible."

A toy drive will run through December 17 at various Atlanta middle and high schools, where students will compete to collect the most toys for their school. The winning school will earn a free concert featuring top Hip-Hop stars from the region. Last year, the drive succeeded is disseminating over 20,000 toys. This year's goal is 50,000. On December 19, Soulja Boy hosts the centerpiece toy drive event at Atlanta's Walmart, located on 6149 Old National Highway. In addition to signing autographs and copies of his latest album isouljaboytellem.com, the collected toys will be donated to underprivileged kids and low-income families.
Maybe he's not such a butt-head after all… This is definitely a good look for the young rapper!
Be the first to receive breaking news alerts and more stories like this by subscribing to our mailing list.