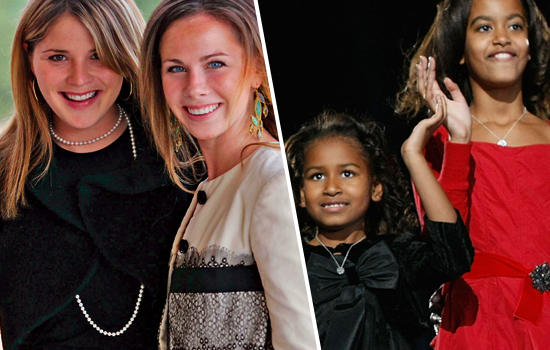 According to People, when Malia and Sasha Obama visited the White House for the first time, they went up to their new bedrooms and jumped on the beds, with the help of Barbara and Jenna Bush, of course.
"We helped them jump on the beds," Barbara, 26, told PEOPLE. "We used to jump on the beds when we were little, too." The Bush twins were 7 when they first visited the mansion, when their grandfather, George H. W. Bush, was elected president. With a laugh, Mrs. Bush added, "They're really tall beds; you need to get a running start."

As Mrs. Obama checked out the two floors where she, the president-elect and their girls will make their home January 20, she wondered aloud about where they might install a toy closet to keep things tidy. Mrs. Robinson marveled at the "magnificence" of the place, said another person familiar with the details of the tour. "They all just said, 'Oh my God, it's just so beautiful!'"

The Obamas have also selected a private school for their daughters. According to CNN, the girls will go to Sidwell Friends School, the same one attended by Chelsea Clinton.
We pray Michelle keeps these girls in check so they don't turn out like the Bush twins. They aren't the best role models in the world…
Be the first to receive breaking news alerts and more stories like this by subscribing to our mailing list.