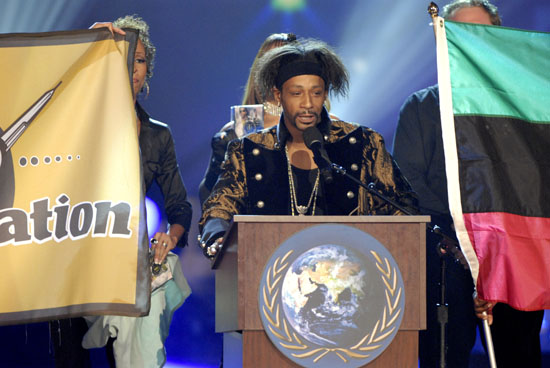 PHOTO: GETTY / WIRE
A recent visit to Sumter, South Carolina led actor/comedian Katt Williams to admit himself into Tuomey Regional Medical Center. On Friday, the former MTV Wild N' Out cast member turned up in Sumter to visit family members, who allegedly urged him to undergo a mental health evaluation for a possible hospital commitment. This comes after media reports surface of him falling out with BET over the Hip-Hop Awards, missing Conan O'Brien, and displaying odd and erratic behavior when on stage, or even when seen out in public.
Sumter Police Department Maj. Perry Herod said officers responded to a call in reference to suspicious behavior by Williams, 35, on Friday morning at the Mount Vernon Inn. "And officers did talk with him, and then my understanding is he went on his own to Tuomey Hospital," Herod said. "Basically we just received a call in reference to a possible suspicious person, but that's the extent of the dealings we had with him," said Sumter Police Chief Patty Patterson.

Patterson said Williams was trying to acquire a room at the motel when hotel employees called at around 8:30 a.m. due to his strange attire: a bathrobe and a towel wrapped around his head. After determining no criminal activity was taking place, officers left. "He asked for some directions, which he was given, and we departed," she said.
Williams appeared on the doorsteps of attorney Garryl Deas' office at 201 N. Main St. around 9 a.m. Friday, after his encounter with police, according to Deas. Deas said the actor came and solicited the attorney's help, though he said he has not been hired to represent Williams. During this brief conversation, Deas said Williams told him he felt the police were "attempting to violate his rights" and he was interested in retaining Deas' representation. Williams also went on to talk about his entertainment career and revealed there were people who thought he was missing because he had failed to report to some engagements, Deas said. The actor said there were even rumors he had perished in a plane crash, which Deas said was obviously not true.

"He was alive and in color in my office this morning," he said. Deas said he talked with Williams until about 9:30 a.m. when the attorney had to leave for a court appearance. Williams asked if he could wait for Deas, and Deas told him he could, Deas said. When Deas returned to his office at about 10:30 a.m., Williams was waiting for him. By this time, Deas said, Williams' behavior had changed.

"His demeanor was a little troubled," Deas said. He said the actor seemed "disoriented." About that time, family or close friends of Williams arrived to try to take him to the hospital for mental evaluation, Deas said. He said the family was seeking to have the actor committed. He was under the impression the family members were a teenaged daughter and the daughter's mother. Williams, however, did not want to listen to their urging that he visit the hospital, Deas said.

His erratic behavior continued. "He just said that he doesn't trust anyone anymore," Deas said. He said he thought "everyone has turned against him. He wasn't really coherent." By that point, the actor was "speaking gibberish," Deas said, though he declined to guess whether the actor was intoxicated. Deas said the family was seeking an order from a probate judge to force him to be seen for a mental evaluation. Sumter Probate Judge Dale Atkinson, however, said neither he nor any of his staff issued a pickup order for anyone by the name of Katt Williams.

Sumter County Sheriff Anthony Dennis said, however, that an order was issued by the probate court and that because his department becomes involved with these type of matters, his office was called. Dennis said the call came in around noon and deputies arrived to transport Williams to the hospital. Though he was vocal in his desire not to go, Williams was not physically aggressive. She could not reveal whether Williams or his family had been in contact with them, but Kathleen Higgins, clinical director for Santee Wateree Mental Health Center, said in order for someone to be psychiatrically committed, one has to be assessed by a mental health worker, "and then a doctor has to sign the commitment papers."

Two psychiatric physicians currently have privileges at Tuomey: Drs. William King and David Justice. Tuomey, however, would not provide any information on whether Williams was treated there. "I don't have any information on that patient," said Holly Chase in Tuomey's public relations. To be committed, someone must be viewed as being at imminent risk of committing suicide or homicide, Higgins said. Should Williams be committed, he might go to a number of hospitals in South Carolina, including the G. Werber Bryan Psychiatric Hospital in Columbia or private institutions such as Three Rivers Behavioral Healthcare or Palmetto Health Baptist in Columbia, the Medical University of South Carolina in Charleston or McLeod Regional Medical Center's behavioral center in Darlington. Though these are not the only behavioral institutions in the state, they are the places local patients are most often sent, Higgins said.

Higgins said a legal commitment spans 72 hours, and after that time a patient must go before a judge to determine whether to be hospitalized or not. One of Williams' most recent public appearances was at a sold-out performance at Carnegie Hall in New York City, which he made just in time, after being released from jail on weapons charges. He is scheduled to appear on Nov. 20 at Caesar's Palace in Las Vegas and on Dec. 31 in Detroit with comedian Steve Harvey. Williams has reportedly said the Dec. 31 show will be his last stand-up show.

His publicist Yvette Shearer, with Shearer Public Relations, did not return a call for comment by press time.

[ SOURCE ]
Wow, this is getting pretty serious! Keep this man in your prayers, everyone…
Be the first to receive breaking news alerts and more stories like this by subscribing to our mailing list.