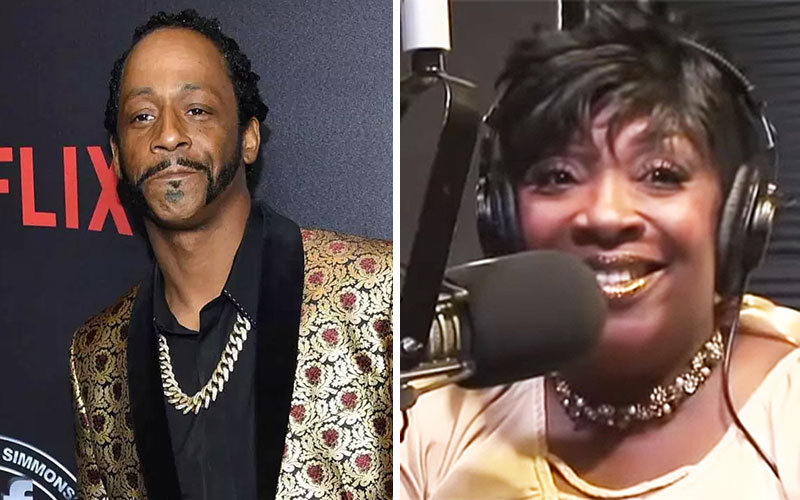 It sounds like Atlanta radio personality Wanda Smith's husband was not amused by Katt Williams' epic roast of his wife on the radio the other day.
According to reports, the husband of the "Frank and Wanda in the Morning" co-host allegedly pulled out a gun on Williams at a comedy show in ATL Saturday night (Sep. 15).
The internet was treated to a hilarious exchange between Katt Williams and Wanda Smith, in which Williams cracked a number of jokes about Smith's weight, her wig, and her cooking skills.
Katt was apparently there for an interview, but it turned into a brutal roasting session when Smith defended comedic actress Tiffany Haddish after Williams said Haddish wasn't really that funny, and her fame was because "she wanna sleep with a white man."
Video clips of the tense back-and-forth between Williams and Smith went viral on social media Friday, garnering millions of views in less than 24 hours.
The following evening, outside the Atlanta Comedy Theater in Norcross, GeorgiaSmith's husband, LaMorris Williams, confronted Katt about the many digs he took at his wife, and even allegedly went as far as threatening him with a gun.
LaMorris introduced himself to Williams as Smith's husband, according to witnesses. Williams was in the club to support fellow comedian Red Grant who performed that night.

LaMorris, who was accompanied by the couple's sons, didn't open fire on the comedian, but Gwinnett police responded to the club and took a statement from Williams. LaMorris was gone by the time police arrived.
When interviewed by police, Sellers said that Williams had a verbal fight with Smith, and Williams "indicated he wanted to fight," according to the police report. Sellers reportedly approached Williams and chased him into the parking lot of the Food Depot, then turned back to the Atlanta Comedy Club.
Sellers admitted to having a gun, however, he said he never pulled it out on Williams. He said the gun simply fell from his waistband while he was chasing Williams. Sellers denied pointing a gun at anyone.
Police said no independent witnesses came forward to corroborate Williams or Seller's account of events. Surveillance video from the Food Depot showed Sellers chasing Williams into the store, but didn't show Sellers holding a gun, police said.
The Atlanta Comedy Theater has surveillance cameras, but they weren't accessible at the time the police report was filed. Williams told police that he didn't want to press any charges over the incident, but if the club's cameras showed any crimes were committed, charges could be filed.
Wanda recalled the weekend's events Monday morning (Sep. 17) on the radio, and said that Katt wasn't even supposed to be doing an interview with them Friday. She said she and Frank were interviewing Red Grant from "Leprechaun in the Hood" when they heard Katt was in the building, and Wanda convinced him to come into the studio.
Smith said this was her first time meeting him, and she respected him as a big-time comic. She said she was shocked, however, when the comedian started going in on her.
"I am not playing victim," Smith said (via AJC). "I am not a jokester like that. I don't know how to do that. He did it. He won. It threw me off."
Atlanta Comedy Theater owner Gary Abdo said he was in the V-103 studio when the exchange between Smith and Williams went down and said it was really tense between them. The interview led to Saturday night at the comedy club, where Smith is a regular host.
Smith said when Williams saw her outside the club, he walked up to her and said, "I told you f****n' with me will make you go viral!" She said that's when her husband got upset, but she couldn't go into details on air for legal reasons.
Some V-103 listeners supported Smith, saying Williams' behavior was inappropriate. "You invited hatred in," one caller said. "He did not come in love. You guys were the portal."
Others, however, said that as a fellow comic, Smith should be able to handle the jokes. Another caller said she "can dish it but can't take it."
Ski defended himself for not ending the interview early because, at the time, he didn't think anything was wrong. "I just see two comedians going back and forth," Ski said. "I'm okay," Smith said.
Be the first to receive breaking news alerts and more stories like this by subscribing to our mailing list.