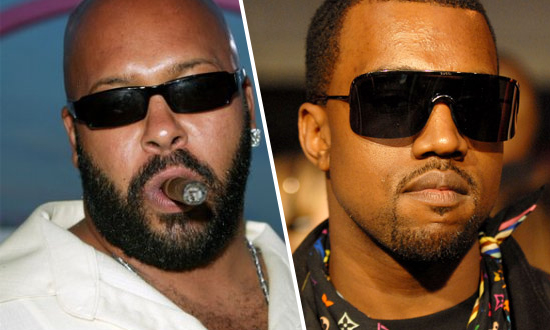 Death Row co-founder Suge Knight is apparently suing our boy Kanye West! According to our friends over at TMZ, Marion (Suge's government name) is suing Kanye over a diamond earring he lost at a party hosted by the "Love Lockdown" singer about 3 years ago. The broke mogul is alleging Yeezy allowed someone to sneak a gun past security at a pre-MTV VMA party at The Shore Club in Miami about 3 years ago, where a still unknown person shot old Suge in the right leg, shattering it.
Suge filed a lawsuit earlier today in a Los Angeles court claiming that he lost his 15-carat $135,000 diamond stud earring inside the club during the shooting incident. And guess who he's placing the blame on? Let me give you a hint. Not himself! But that's not all, the story gets even more ridiculous. In addition to medical bills, and the cost of the earring, Suge Knight claims he was injured so badly that he had to take a PRIVATE jet back to Miami, because first class on a commercial airline would have just been too much for his poor heart.
So now Suge, who coincidentally recently filed for bankruptcy, wants to be reimbursed for the earring, the medical bills, and the cost of the private jet. But our question is since when does Suge Knight sue people? I thought he was one of those "shoot first, ask questions later" type of people. Has he found Jesus?
Be the first to receive breaking news alerts and more stories like this by subscribing to our mailing list.