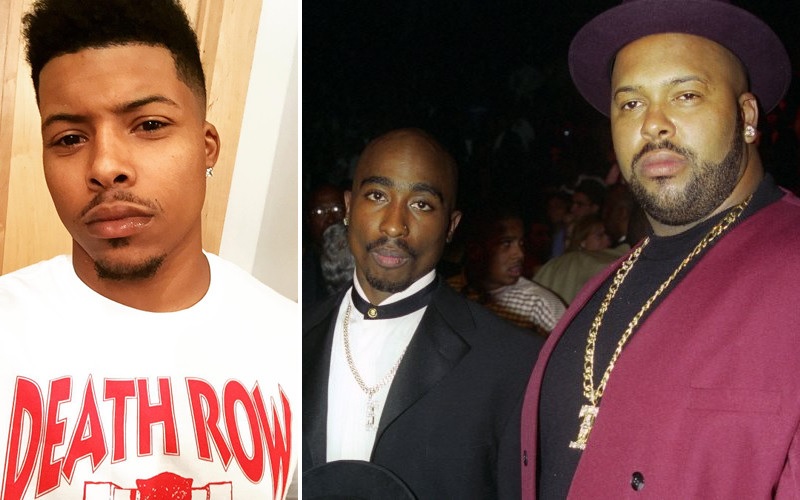 Suge Knight Jr. is speaking out and says his father had nothing to do with Tupac's murder. He says his father would never put his "brother" in danger and reports that suggest otherwise are "fake news."
Earlier this week, it was reported that Suge Knight revealed in an affidavit that his ex-wife, Sharitha, and former Death Row security chief, Reggie White Jr., were behind Tupac's 1996 shooting and murder. He believes he was the intended target, but Tupac was the one caught in the crossfire.
Suge's son wrote on Instagram Tuesday (Apr. 4) that Suge is innocent in the matter and this false theory is being pushed for publicity and monetary gain.
"My father was the Big protective brother of Pac. If he knew anybody was after him he wouldnt have pac with him in the first place. These rumors are selfish and its unecessary.

When you look who is trying to profit off of causing chaos in my family its somebody who doesnt know nor care about my family. Fake news will never get attention but people will stop trying to make a quick dollar off my family, especially off lies."
https://www.instagram.com/p/BSfHkAJgSyl/
The alleged affidavit was reportedly written by Suge's lawyer, Thaddeus Culpepper, for an upcoming documentary on Tupac's unsolved murder. The filmmakers believe the Reggie/Sharitha theory is the real story and Suge corroborates the theory, something he has kept secret for over 20 years.
However, Culpepper says in a statement that he never wrote the affidavit in question:
"[I have] never made any statements regarding Tupac Shakur, nor have I made any statements on my client's behalf regarding Mr. Shakur, written or otherwise."
So, what is the truth? Again, unfortunately, we may never really know who killed Tupac.
Be the first to receive breaking news alerts and more stories like this by subscribing to our mailing list.