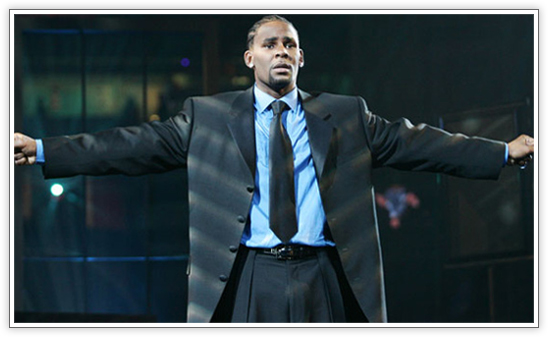 It's being reported that Brayel and Brendon Kelly, nephews of R&B singer R. Kelly, are in trouble with Chicago police following a failed robbery attempt at a barbershop. And to make matters worse, 15-year-old Brayel was shot twice by the store's owner and is currently in intensive care in the hospital.
After being shot in the abdomen/chest area, Brayel, 15, is in intensive care, Advocate Christ Medical Center told MTV News. The singer's estranged brother Carey Kelly, told a local Fox reporter outside the hospital that his son was shot twice and that one bullet collapsed his lung on the right side, while the other pierced his liver. Calumet City police told MTV News that one of the two boys went into a barbershop and requested a haircut. After receiving his haircut, he allegedly tried to rob the barbershop owner by producing a weapon and demanding that the owner place his money and jewelry in a plastic bag. The man complied but also produced his own weapon. Police say the suspect fired, and the victim returned fire. The owner later told police that he believed he hit the robber.
Before responding to the armed-robbery call, police responded to a call two blocks away, where they found a juvenile who had been shot in the back. Brayel's older brother, Brandon, was arrested and police are investigating whether he acted as a lookout. The Cook County state's attorney's office, which had previously tried R. Kelly on charges of child pornography earlier this year, would be the prosecutor in the case if the brothers are charged with attempted robbery. The office told MTV News that they are currently looking at "all the facts being compiled by the police."

Brandon and Brayel are among Carey Kelly's six children. Carey previously told MTV News in 2006 that his sons, but not his daughters, used to have a close relationship with their famous uncle. "My boys have been around Robert to go to his house, shoot pool, play basketball, before all this," he said, referring to the criminal allegations against R. Kelly. After a falling out, those visits were no more.

Carey told reporters that he believes his sons were the victims of the attempted robbery, not the perpetrators, since there is a widespread belief that the more famous Kelly had shared his wealth with his family. "People have tried to rob us," Carey told Chicago's WLS-TV. "They think we got money. … That's R. Kelly money, that's not our money."

In his earlier interview with MTV News, Carey said that there had been times when his family was so poor, they actually lived on the streets. He claimed that he didn't resent his brother for not helping them out financially. "I never was mad or angry," he told MTV News. "That's his money he made." [ SOURCE ]
Be the first to receive breaking news alerts and more stories like this by subscribing to our mailing list.