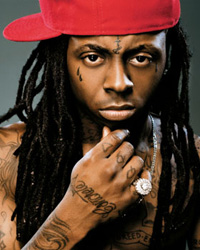 A special note to anyone out there reading this who has any intentions on hiring an assistant or anyone like that … watch your back, and watch what you do around them. Because when you need them the most, they're gonna f*ck you over like this "Terry Bourgeois" person did to rapper Lil' Wayne.
The Cash Money star's assistant, Terry Bourgeois, explained to the judge that marijuana is "something we always have" on Lil Wayne's tour bus. He went on to reveal the rapper only smokes "dro" and then explained what the name is short for, ie "hydroponically grown" pot. Weezy, all the while, sat with his head in his hands as his assistant dished the news, TMZ reports.

Bourgeois, however, testified she did not see Wayne with a gun on the night in question. According to the Associated Press, Weezy's legal rep Stacey Richman wants the case dismissed. Richman claims police falsely stated they smelled marijuana in order to board the bus with just cause.
Wow! Did he really have to go into detail like that??? I'm not saying he lie under oath, because we all know what happened with Lil Kim, but damn. This fool explained how it was grown and everything!
Be the first to receive breaking news alerts and more stories like this by subscribing to our mailing list.