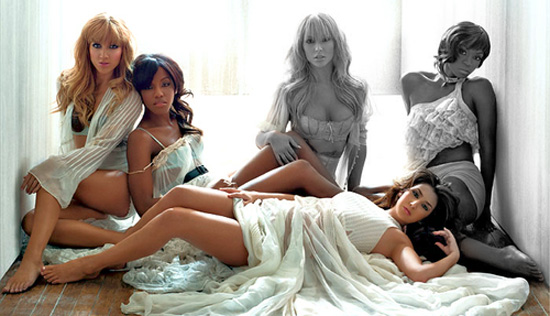 Danity Kane is now a threesome [get your mind out of the gutter!]. Aubrey O'Day and D. Woods were kicked out of the Bad Boy family (as Diddy so eloquently calls it) on Tuesday night's season finale of the third season of MTV's "Making the Band 4." A lot of people are speculating the reason behind the ladies' dismissal, so Dawn Richard sat down with US Magazine exclusively and dished the dirt:
"Puff did not like [O'Day's] image … where her image was going for the group. It wasn't a personal thing. We had just did a signing with Dollhouse Teen, which is for 13, 14-year-old young girls," Richard says. "So we can't do that one day and then the next day do an obnoxious cover. [Diddy] wants the fans, and he says he can't do that if we can continue to go in the direction that we were going."
If you caught the show Tuesday, regarding Aubrey O'Days departure, you would've heard Diddy say something like: "I just want to work with the young lady that I signed, not the person that fame has made her…" But what about D. Woods? Why was she let go? According to Mr. Sean John, "she got caught up in the wrath" of Aubrey O'Day.
As far as we know, Danity Kane will move forward without D. Woods and O'Day, but somehow I feel like season 4 of Making the Band 4 will be all about finding two replacements. You know how Diddy is!
[poll id="66″]
Be the first to receive breaking news alerts and more stories like this by subscribing to our mailing list.