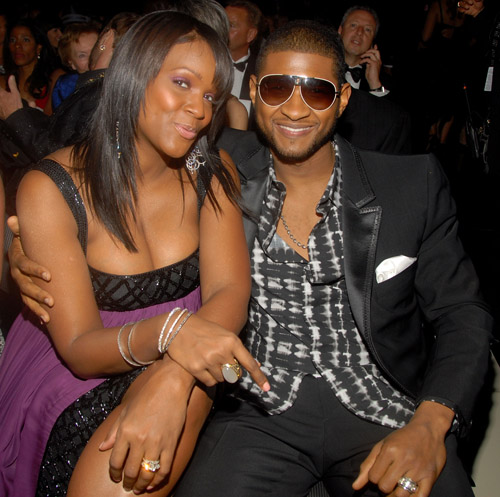 The internets are talking. Loud. And they're talking about the Raymond family. Word on the sidewalk is that Usher and Tameka are expecting baby number two. As a matter of fact, People is confirming it, which makes it seem about damn near true to me. People's usually up to par with their stories when it comes to creditabilty and all of that good stuff.
Recently, Foster was spotted wearing a belly-disguising outfit during Usher's Sept. 4 NFL kick-off concert in New York. The dress was "very deceiving," the source says. "You couldn't tell she was pregnant when she was sitting down."

The singer has also been busy with his charity, the New Look foundation, and a summer camp he ran for teenagers. In August, Usher told PEOPLE that being a father inspired him to give back.

"Having a child just completed the story," he said. "I already had a giving heart, and I wanted to do something to mentor children."
I don't know about all of this, Ush. Your first child with Maneka turned out okay. I think you're playing Russian Roullete going in for a second time. I'm just saying. Genetics are a bitch.
Be the first to receive breaking news alerts and more stories like this by subscribing to our mailing list.