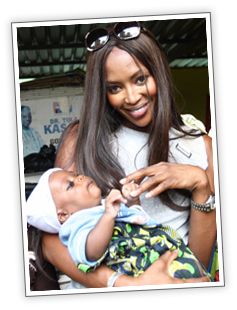 NAOMI WANTS KIDS & STARTS COMMUNITY SERVICE: Supermodel Naomi Campbell reportedly had surgery earlier this year to remove what the 38-year-old model called "a small cyst."
"They thought it was a cyst," she explained, according to Britain's Press Association. "When they opened it up they realized it was more."
The surgery was a success, and now that Naomi is in perfect health, she has plans on starting a family very soon. Now, don't get me wrong. I'm sure Naomi's a good person and there's a chance that she could be a really good mom. BUT! I believe there are people on this earth (women, of course) who should not be allowed to re-produce and bring children into the world. And in my humble opinion, Naomi Campbell is at the top of that list. Her temper just doesn't cut it with me. Say her kid stays out a few minutes past curfew. How do you think Naomi's gonna punish him/her? Homegirl went upside her maid's head with a blackberry just for wearing her pants. Imagine what she'd do to her own kid! I shudder at the thought…
In other Naomi news, yesterday marked the start of 200 hours of community service the supermodel was sentenced to after admitting to assaulting police during a fit over a lost bag at Heathrow airport. But according to a few "inside sources," she's in the back doing secretary work and being "treated like a princess." A total flipside to what she was ordered to do this time last year when she was on her hands and knees cleaning bathrooms.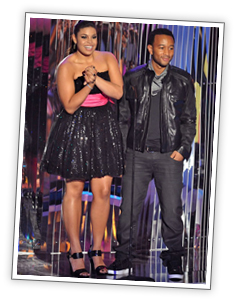 JORDIN SPARKS DEFENDS "PURITY RINGS": According to pop singer Jordin Sparks, "not everybody wants to be a slut." The 18-year-old American Idol winner made that comment in response to remarks made by 2008 MTV VMA host Russell Brand. During his opening monologue, Brand said a few jokes about the Jonas Brothers and their "purity rings," [ VIDEO ] suggesting that they should be taking advantage of their celebrity status to win dates with the ladies. So when Jordin hit the stage [ VIDEO ] with John Legend to introduce T.I., she said the following:
"I just have one thing to say about promise rings. It's not bad to wear a promise ring," Sparks told the crowd, "because not everybody – guy or girl – wants to be a slut."
Ouch!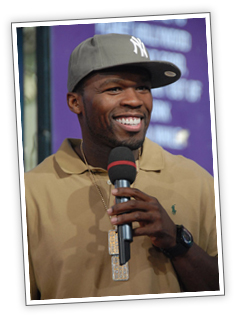 50 CENT WINS VISITATION RIGHTS WITH SON: Rapper 50 Cent can see his son more frequently thanks to a ruling by a family court judge earlier this week. Originally, the vitamin water spokesman was only allowed to see his 11-year-old son, Marquise, one week out of the summer every year due to a court stipluation taken out by the boy's mother, Shaniqua Tompkins. But now 50 can see his son every other weekend until an October 22nd custody trial where another judge will decide permanently who the boy will permanently stay with.
But it doesn't look too good for 50 right now. He let his mouth run before his brain was able to catch up and stop it right after he left the court. When he was asked if the judge's increase on visitiation would change his lifestyle, he bluntly said no:
"I'm going to hang out with some hoes, make some movies, make some music, and continue to kick it."
And Shanequa's lawyers are going to use that particular comment against the rapper in October. "This is exactly what we are worried about," said attorney Paul Catsandonis. "We don't want Marquise to be in an environment like that." … Idiot!
Be the first to receive breaking news alerts and more stories like this by subscribing to our mailing list.