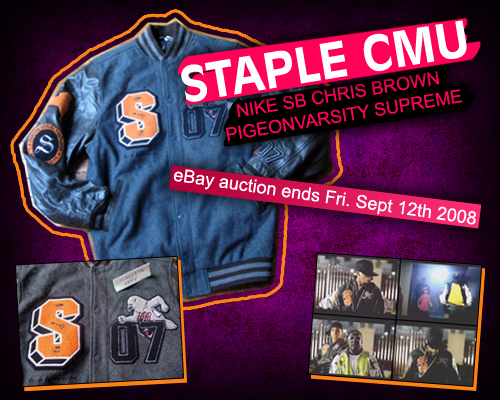 I know Kennesha usually handles the fashion posts around here, but I had to step in and let you guys know about an auction for a jacket identical to what Chris Brown wore in his "Kiss Kiss" video going on right now on eBay. Click here to check it out! As of about 4:15 AM EST, the current bid is sitting at $127.50, and in order to bid on the jacket yourself, you must place a bid of at least $130. Shipping and handling is $14.00 via US Postal Service Priority Mail®, and the item is located on Honolulu, CA. Be sure to act fast and bid now because the auction ends promptly at 7 PM on Friday September 12th 2008, which only gives you about 3 good days to own this fly jacket!
The jacket was designed by Staple Design, a clothing company founded in 1997 by a guy named "Jeff Ng." The actual company is based out of New York, but the guy running the eBay auction got his hands on the jacket above (size: Large), which according to the auction, is "super rare and sold out." I'll keep you updated over the next few days on how this auction goes.
Be the first to receive breaking news alerts and more stories like this by subscribing to our mailing list.