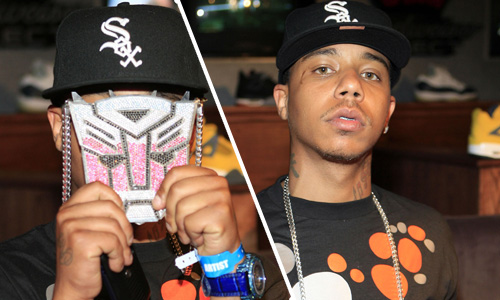 If you didn't know already, we here at Think2Wice have a special place in our heart for rapper Yung Berg. It's an extremely dark corner with no A/C, no water, no nothing. Close your eyes and imagine "hell." Yeah, not that bad, but damn near close (because we don't have hell in our hearts lol). So basically, whenever you hear the name "Yung Berg" (or Yung Fag) mentioned on T2W, know that something has happened to him that allows us to make fun of him. But anyway, Yung Fag got into a scuffle over the weekend which resulted in him getting his chain (pictured above) snatched and he ended up leaving the scene with a couple scrapes and bruises. Here's what happened, according to Necole Bitchie.
Yung Berg flew into Detroit late friday night for Hot 102.7's annual Summer Jamz concert but instead of going straight to his hotel as scheduled, he made a pit stop at a club called Plan B, which i'm hearing is partially owned by Detroit rapper Trick Trick. Now mind you, Berg didn't tell his label, his management or anyone that he was about to sneak off to the club.
Within minutes of getting inside the club, both Yung Berg and Cap (the person he met up with) were attacked by a group of men affiliated with Trick Trick. I am hearing that Trick Trick was NOT a part of the beat down. In fact, he helped break the fight up. Yung Berg's security quickly scooped him off the ground and rushed him onto Cap's tour bus that was parked outside of the club. His transformer chain (pictured above) was snatched during the mayhem. He was then taken to his hotel but did not receive any medical attention. He only suffered minor cuts and bruises and of course he's a** was in total shock. He literally landed in Detroit and within that same hour caught a beat down. "Welcome To Detroit"!

By this time, Berg wanted to get the hell out of dodge, so arrangements were made and he was put on a plane back home. To all the Detroit fans that were disappointed that he didn't perform, he really wanted to please his fans but when ish like this go down, please understand "it's time to go".

As far as the cause of the beat down, Yung Berg apparently said something in the past that was very disrespectful about Detroit rappers and Detroit don't play that. Not sure if you remember, but Trick Daddy ended up catching it in Detroit by Trick Trick a few years ago.
Poor kid. ((Shrugs))
Be the first to receive breaking news alerts and more stories like this by subscribing to our mailing list.