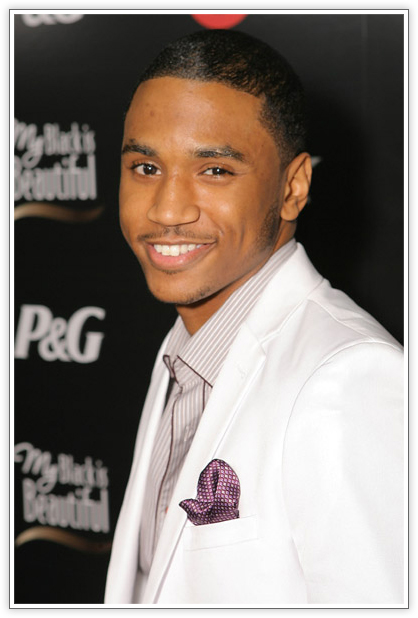 Trey Songz posted up an interview with Essence.com on his MYSPACE page today. In the interview with Essence Trey talked about his recent change in appearance, politics, growth, and love.
ESSENCE.COM: So I hear you're making a pretty big change soon…
Trey Songz: I cut my hair today. Everything I do in my life I do with a do-rag [laughs]. The braids are a part of me. It's been ten years, but I am tired of them.

ESSENCE.COM: Is this change just another step in your evolution process?
Songz: With the new album, I am growing more into adulthood. I'm wearing my pants up a little more, my clothes are fitting [now], and I think it's time to step into manhood, so that's why [I decided to cut my hair.]
ESSENCE.COM: Since you brought up politics, how do you feel Obama's campaign is progressing?
Songz: Obama is great. I'm proud of him even though I don't know him. It's great to know that Black men can do things like this in this world right now. Even though he's not 100 percent Black, we feel proud about the views that he has and the way he looks at things. There's a lot of pressure on him. I hope he can handle it.

ESSENCE.COM: You note Obama is of mixed heritage, an issue that has surfaced in the campaign. Do you have an issue with him being biracial?
Songz: In America, if you have any Black in you, you're Black. If he wins, he will be the first Black president. He won't be the first half Black president. [CONTINUE READING]
Trey's new album, READY, is set to drop later this year!
Be the first to receive breaking news alerts and more stories like this by subscribing to our mailing list.