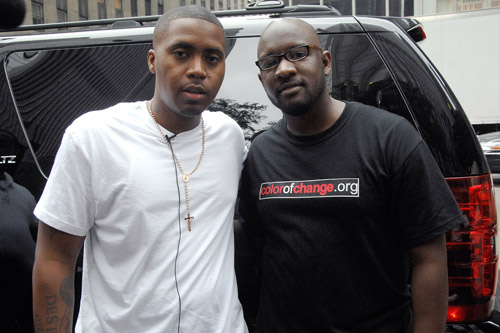 Nas, who currently has the #1 album in the country with over 180,000 units sold, is protesting Fox News's coverage of presidential hopeful Barack Obama. The rapper says that while he supports Obama and his vision, he hasn't officially endorse the candidate and claims no political party has approached him for further support. But that hasn't stopped him from becoming a member of the activist groups MoveOn.org and ColorofChange.org in an effort to deliver more than 600,000 petitions to the network's New York City headquarters earlier today.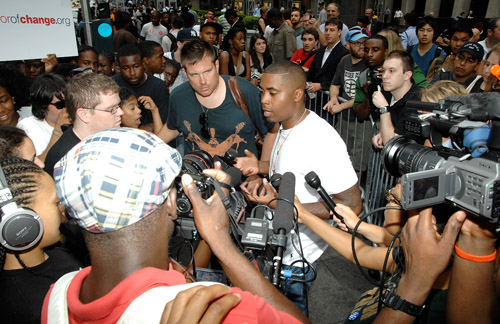 Nas said in a statement that "Fox poisons the country with racist propaganda and tries to call it news." Today, he spoke to a crowd of nearly 100 protestors, and urged Fox to "stop the racist smears on the Obamas and black Americans." He spoke on remarks made by Fox reporters that he and supporters found to be racist, including a reference to Michelle Obama as Barack Obama's "baby mama," and he spoke on how the network called the fist bump between the couple a "terrorist fist jab."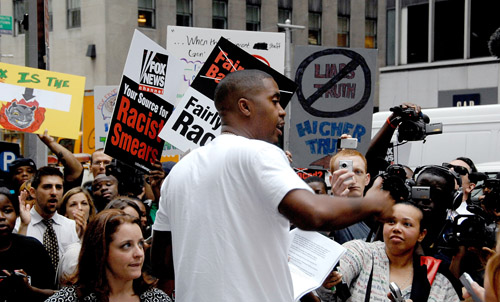 The Color of Change campaign began about a month ago, but it wasn't until a couple of weeks ago that Andre Banks, the director of the non-profit organization, heard Nas' song "Sly Fox" and contacted the rapper about becoming a member and helping the cause. "(We said), 'Let's call up his people and see if we can make it happen,'" Banks said.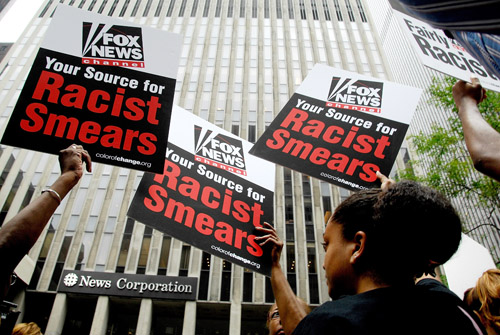 The rapper, and the boxes of signed petitions, will appear tonight on "The Colbert Report," which airs at 11:30 p.m. ET on Comedy Central.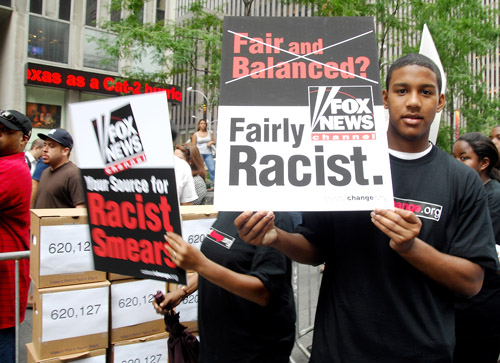 (PHOTOS: GETTY IMAGES)
Be the first to receive breaking news alerts and more stories like this by subscribing to our mailing list.