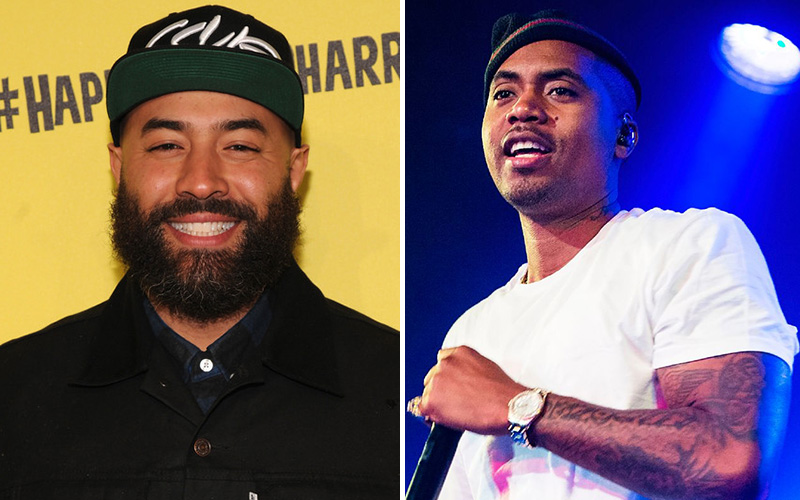 In what can only seen as a clever attempt to troll fans of Hip Hop, Ebro Darden of Hot 97 fame made a ridiculously bold statement on Twitter last Friday (Jul 24).
According to Old Man Ebro — a … "purveyor" of Hip Hop, if you will — Nas, in comparison to rappers like 2Pac, Biggie and even Jay Z, is NOT considered a lyricist; he's just a rapper who has clever "word choice" and not "word play."
Rappers & Lyricists were always different growing up…

Lyricists are Rappers, but not all Rappers are Lyricists…

— El Viejo Ebro (@oldmanebro) July 24, 2015
https://twitter.com/oldmanebro/status/624636004989861888
Nas has amazing stories and word choice…

Word choice is not Word play! FOh

— El Viejo Ebro (@oldmanebro) July 24, 2015
Hip Hop DX explains Nas' rap style very well here:
Nas dabbles in a number of different styles, but his penchant is streetwise first-person narratives. Sometimes they come in the form of a story ("One Love"; "Rewind"), and other times it's just bars on bars ("It Ain't Hard To Tell"; "If I Ruled The World"). He is a master of the craft and inspiration for dozens of today's artists. On the other hand, he doesn't frequent the puns or double entendres like Jay does. Nas, like Raekwon and Ghostface, touts an impressive vocabulary of SAT words and criminal slang ("Verbal Intercourse"). However, according to Ebro's definitions, this makes Nas "lyrical," which is not to be confused with being a "lyricist."

Nas gets discredited here for not having concrete punchlines in his bars. He doesn't abandon the style completely, though. Tracks like "Queens Get The Money" are loaded with wordplay: ""Nasty Nasdaq / Y'all going to bow holmes, it's Dow Jones." Rhymes like these aren't what made him famous ("When I was 12, I went to hell for snuffin' Jesus), but he's still capable. In the end, Nas's ability to articulate a message or story with descriptive imagery and word choice should qualify him as a lyricist.

The wordplay and word choice dichotomy, however, is an important outlier to this discussion. Ebro is right when he says Nas and Tupac are great with their choice of words. Towards the end of his life, Tupac was increasingly prophetic with his rhymes. He spoke bluntly and spiritually about good and evil, but his rhymes were never loaded with metaphors. They were, however, profound and poetic: "Institutionalized, I live my life a product made to crumble / But too hardened for a smile, we're too crazy to be humble." In making The Don Killuminati: The 7 Day Theory, Tupac utilized numerous biblical undertones and themes in his rhymes to convey a vibe. It worked. The album went Platinum five times and we're still validating Tupac's prophecy years after his death.

Perhaps the most controversial element of this debate is that according to Ebro, metaphors and wordplay fall under the umbrella of lyricism, while storytelling and delivery do not. The fact of the matter is, they are all of equal importance; different ends of the same totem pole. Lyricism should encompass each of the aforementioned facets, regardless of personal preference.
Of course Ebro's comments sent Twitter into a frenzy:
@oldmanebro Nas isn't a lyricist? pic.twitter.com/hcSHh103X9

— ? (@lutherpjay) July 24, 2015
Ebro Says Nas Is NOT A Lyricist! (Dude Is Buggin) http://t.co/wyR6pFL93f pic.twitter.com/py93zRRmSm

— Instagram: @DoggieDiamonds (@DoggieDiamonds) July 26, 2015
Nas is a lyricist pic.twitter.com/SXxuHvCfiW

— Young Black Jesus (@zekNcashe) July 24, 2015
@WilTheThrill21, #Hot97, Hot 97's Ebro Says Nas Is Not A Lyricist? Huh? – Baller Status http://t.co/1tDc4XV9GE

— Trending Now (@bnewsheadlines) July 28, 2015
#ICYMI @OldmanEbro's Trolling, @Nas & The Debate Between A "Rapper" & A "Lyricist" http://t.co/BuADg5BNKz pic.twitter.com/2APHMmoW1t

— HipHopDX (@HipHopDX) July 27, 2015
Nas is one of the greatest lyricist of ALL TIME and that is not up for debate. Not even a little bit.

— Creative Gold (@CREATIVE_GOLD) July 25, 2015
@oldmanebro Respectfully, saying Nas isn't a lyricist is baffling to me. And the initial lyricist/lyrical distinction didn't make sense.

— Marc Lamont Hill (@marclamonthill) July 25, 2015
Sorry @oldmanebro Nas is definitely a lyricist! His whole career is based on it. I disagree vehemently.

— Mr C'mon Son!!!! (@MrEdLover) July 24, 2015
https://twitter.com/BadKariri/status/624638334548201472
Before you go at Ebro for not classifying Nas as a lyricist, google "lyricist," chuckle, and give up.

— Craig Bro Dude (@CraigSJ) July 24, 2015
Ebro on it! Been saying it since I could comprehend rap. Best example of rapper vs lyricist is Nas' "Rewind" vs Jay Z's "Meet the Parents."

— Karla San Diyayo (@RockiRolls) July 24, 2015
@oldmanebro i agree with you on the nas thing….he doesnt flip. Pun=ultimate flipper camron =flips crazy. Big sean = flips.

— Public Enemy #1 (@ImBigAng) July 24, 2015
Ebro's response? Keep trolling.
Word choice is NOT word play! Telling stories that are cohesive is difficult too! https://t.co/C59M0iGaxg

— El Viejo Ebro (@oldmanebro) July 24, 2015
Lyrical is not Lyricist…
Ya'll dense bruv

— El Viejo Ebro (@oldmanebro) July 24, 2015
Hahahahaaaa! https://t.co/TEpCfHvWXr

— El Viejo Ebro (@oldmanebro) July 24, 2015
Let's get it on then!

— El Viejo Ebro (@oldmanebro) July 24, 2015
It's fun to split hairs… Semantical debates are good for ya soul!!

Just cause you can't wrap ya brain around concepts don't get angry

— El Viejo Ebro (@oldmanebro) July 24, 2015
Woooooo! They MAD!
I'm just a RAP fan My G… Calm down!

— El Viejo Ebro (@oldmanebro) July 24, 2015
And by the way..
THERE REALLY IS NO DIFFERENCE BETWEEN LYRICAL & LYRICIST

But notice how violent & foul people got just debating? Hm.. Sad

— El Viejo Ebro (@oldmanebro) July 24, 2015
Be the first to receive breaking news alerts and more stories like this by subscribing to our mailing list.