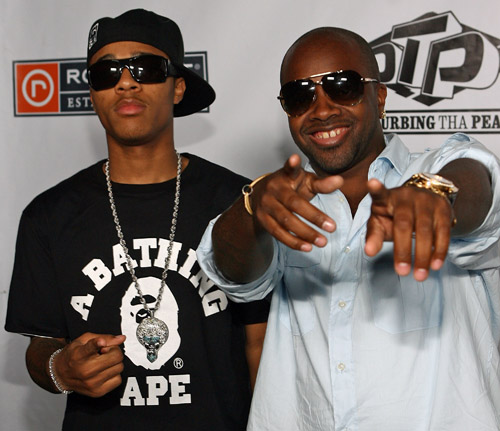 Bow Wow is currently working on his seventh recording album, Pedigree, which is set to be released in stores this Fall 2008. He already has a single out featuring Soulja Boy titled "♫ Marco Polo". His long time male role model and producer, Jermaine Dupri, was ejected in some of Bow Wow's previous projects but Bow Wow has repaired those "misunderstandings":
"He's my father," Bow Wow said. "He's the dude when you in the crib and have your arguments, you move out the crib. … But me and JD are back tight again. We hanging out every day. I'm putting him on this song Swizz Beatz did for me called 'Big Bank Take Little Bank.' I'm trying to throw him on there right now. Y'all gonna see JD on the album even if he just gets on there and says, 'Y'all know what this is!' He's gonna be a part of it even if I have to drag him."
It's cool to see people argue and make up. These things do happen, but Bow Wow is also headed towards new filming projects as well. Bow Wow is going to be portraying a new character in the HBO series "Entourage". Bow talked about his role in a recent interview:
"I'm playing a character named Charlie who is an up-and-coming comedian, which is different for me, because I'm not really a comedian. But I can be a clown when I want to," he said. "I'm actually E's new client, and I signed on to their agency. I'm having fun this year. A lot of opportunities are being thrown my way. The dope thing about it, I've never liked to mix my acting stuff with the music," he said. "I've always been like that forever. Now, being that acting is my first [love] and I still love music with a passion, I wanted to find a way for me not to be stressed out and have fun with it. I wanted to bring the acting side to my music. When you see Bow Wow the musician, you see Bow Wow the actor. You'll be like, 'He's an entertaining little dude right here.' "
Bow Wow is trying to do more than just be on the big and small screen. He's also trying to be behind the camera. He also talked about becoming a director in the future is something he's looking forward to:
"That's my new hobby on my MacBook: editing," he said. "Editing on my computer, I found out that's my first hobby. I edit all my videos [for my video blog], put effects on it. I've gotten better. The 'Marco Polo' video, I directed it. I've been doing [videos] for so long, I know how it's supposed to be shot, how it's supposed to be done."
[ SOURCE: MTV ]
Be the first to receive breaking news alerts and more stories like this by subscribing to our mailing list.