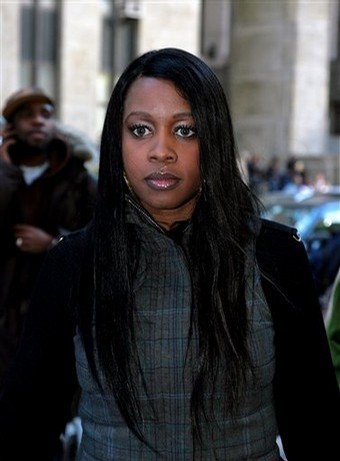 "Throughout this unfortunate case, I was advised from my attorney to stay silent but now I want you all to see me for me and what I've gone through," said Remy as tears fell. "Reporters and newspapers have called me a 'hardcore rapper,' a 'hip-hop harlot' — Remy Ma is just a music industry name. A facade. I'm not a thug. I'm not a hardcore anything. I have feelings. I'm Remy Smith — No, I'm Remy Mackie. I'm a wife, mother, daughter and big sister."
This is what Remy Ma was quoted as saying as attempted one final time to receive a lighter sentence. Remy was arrested last year after she shot her longtime friend Makenda Barnes-Joseph in the stomach over an alleged confrontation of about $3,000 stolen from Remy's purse. In March, she was found guilty of first-degree assault, criminal weapons charges and attempted coercion, which lead to her sentencing hearing today.

Unmoved by Remy's statement Judge Rena Uviller stated
"Remy thinks she is free to take whatever actions she wants based on the hardships of her life. This is not the first time Ms. Smith has engaged in violence," Judge Uviller said. "This is a pattern. Smith doesn't take responsibility for her actions. Her letter to the court and her statement today showed no remorse. She even painted herself as the victim."
Before delivering the eight-year sentence, Uviller added
"This is not about hip hop. This is about the individual, Remy. She is a danger to others."
According to The Village Voice, Papoose exploded in a fit of anger outside the Manhattan courtroom just moments after his tearful bride-to-be, Remy Ma, was sentenced to eight years. Papoose had to be restrained while court officers told him to move it along and exit the hallway outside of Manhattan Supreme Court.
Papoose was quoted shouting:
"I don't care! Lock me up! Lock me up! Take me to jail! Arrest me! It's all about money!"
Although I feel bad for Remy, she did shoot someone. Hopefully when she gets out she will be a changed woman. Not only for herself, but for her son. He now has to live 8 years without his mom.
Be the first to receive breaking news alerts and more stories like this by subscribing to our mailing list.