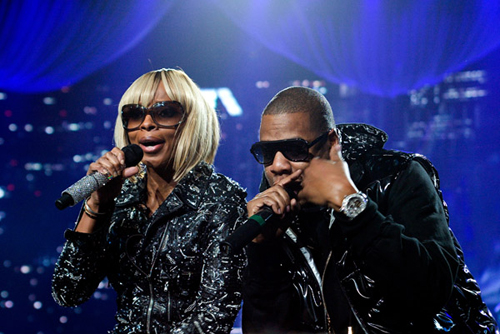 (Photo: Wire Image) According to Shameless Hype, Mary J. Blige and Jay-Z got some "splaining" to do! Jay and Mary had to postpone their Oakland, CA show, which was originally scheduled for Sunday night, to last night. They, of course, killed it on stage. No surprise there. But according to a source close to Jay-Z, the two got drunk and had so much fun the night before in Vegas that they decided to push the show back one night … to get some rest, I suppose. But that's not the story they told their concert-going fans. They lied and said they had some "technical difficulties," when in reality, they just didn't feel like performing in front of a non-sellout crowd. Check out the e-mail below:
"What's good, i'm a employee on the Jay-Z/Mary J. Blige tour and im also a native of Oakland. As you may had heard, the show was postponed due to some ol bullshit excuse of technical difficulties, but I know for a fact that nothing was wrong other than the fact that Jay and MJB were in no rush to get to Oakland, because they were too busy getting drunk in Vegas and wasnt trippin off performing in front of a non-sellout crowd in Oakland. I am sending you this because you guys are repping the bay and I was make sure that my town knew the real reason behind this. Please do not release my email address, because a brotha still needs this job with the show. Peace!"
[ SOURCE » ]
Be the first to receive breaking news alerts and more stories like this by subscribing to our mailing list.