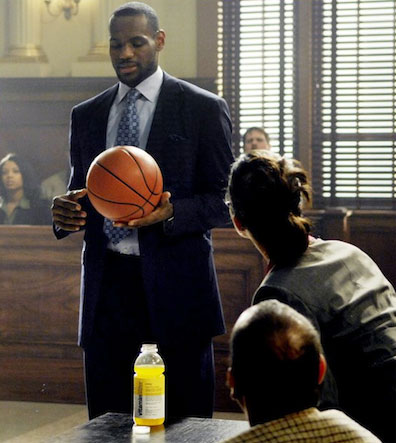 [ VIA THE CORPORATE TAKEOVER » ]
NBA star Lebron James has a big-time agenda to meet! He has publicy stated that he wants to become the first billionaire athlete, and at the young age of 24, he might just meet that goal. With endorsements deals from Nike, Sprite, and now Vitamin Water, amongst other deals, the "point forward," as he is called, has earned close to $250 million!
But back to his new deal. The Cleveland Cavaliers front man will be featured in a series of commercials advertising Vitamin Water. The commercials are set to air during the 2008 NBA Playoffs, and will feature Lebron James as a lawyer. That's a far cry from his current image: "King Kong." I know you guys peeped his cover shoot for Vogue Magazine. If you haven't heard about the controversy that particular cover has been causing, then you need to find a new place to live, because the hole you've apparently been living in appears to be pretty dark and lonely!
And speaking of celebrities making big moves with endorsement deals! It appears as if hip hop mogul Jay-Z is going to have some more cash to deposit into his already loaded bank account pretty soon. He participated in a photo shoot with Karl Lagerfield, Fendi's creative directory, the other day, which adds to rumors that he is going to be the "new face of Fendi". It looks like the big-name companies are beginning to take an interest in hip-hop's finest! Definitely a good look.
Be the first to receive breaking news alerts and more stories like this by subscribing to our mailing list.