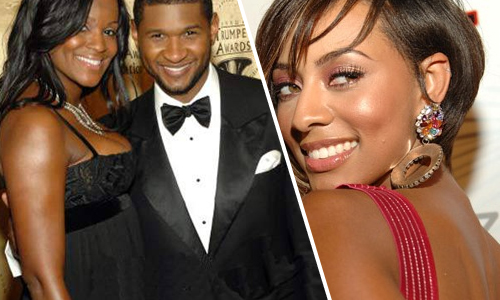 The streets are talking! And they don't have many good things to say about Usher's new wifey Tameka. Word on the sidewalk is that home girl was acting up on the set of her husband's new video for In This Club. You see, Usher made two big mistakes. Mistake #1: Hiring Tameka as the stylist for his video. Mistake #2 (but technically not really a mistake): Hiring Keri Hilson as the leading lady; someone who is much more beautiful than that Tameka creature whom he calls "wife." Anyway, a spy for Page Six let the cat out of the bag, and revealed all of the dirt that you'd never hear come from the mouths of neither Usher nor his PR team. Peep the dirt below…
Foster was "domineering" and displayed her trademark "Tameka wrath" during a video shoot for Usher's new song, "Love in the Club," the weekend of March 15 in LA. Our on-set source said Foster was upset when she found out stunning singer/songwriter Keri Hilson was personally picked by Usher to play his love interest in the video.

"It was supposed to be a sexy video shoot," our spy said. "And Tameka was there the entire time guarding like a watchdog. It was ridiculous – she knows Keri and knows she's no video ho or Karrine Steffans." Steffans, nicknamed "Superhead," wrote the book, "Video Vixen," about her alleged flings with Usher and several other artists.

"Tameka is very insecure," our source said. "Even in rehearsals she was weird and clearly not happy that Keri is so gorgeous. Tameka threw a lot of attitude. The day of the shoot, Tameka dressed Keri very badly – she looked like an extra. Tameka wouldn't let Keri have her hairdresser there – she had to use the hairdresser who was doing the extras."

Foster also took a dislike to Usher's longtime choreographer, Jamaica, and banned her from the set. When Usher and Foster were spotted at the Beverly Hills Hotel last week, "They barely said one word to each other," we're told.
Bitchassness, indeed!
Be the first to receive breaking news alerts and more stories like this by subscribing to our mailing list.