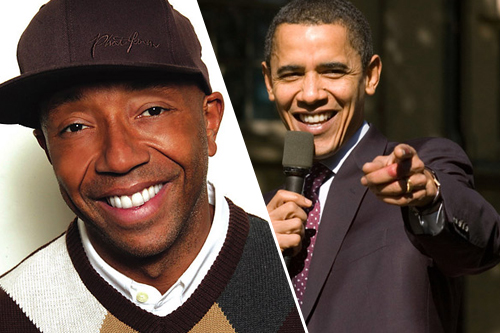 Hip-hop mogul and Phat Farm CEO Russell Simmons has publicly released a statement announcing his endorsement for Senator Barack Obama, saying that he was inspired by the diversity among supporters of the senator from Illinois.
"Today I am announcing my personal endorsement of Senator Barack Obama for President of the United States," announced entertainment mogul Russell Simmons Sunday. "From the sidelines of the primaries and debates, I have been particularly inspired by the fact that Sen. Obama has built an unprecedented, national movement comprised of people from all ethnic, racial, political, social and economic backgrounds. Although I have great respect for the accomplishments of Sen. Clinton and I have personally worked with Sen. Clinton successfully on issues concerning education, prison reform and poverty, I am now compelled by my own personal conscience to publicly state, 'I support and endorse Barack Obama for President.'

As the Chairman of the non-partisan, nonprofit The Foundation for Ethnic Understanding, it is my personal opinion that Sen. Obama's campaign for President has and will continue to transcend race in America and have a profound positive impact on the very issues I have been fighting for my whole life. Many of you know my work as Chairman of the non-partisan, nonprofit Hip-Hop Summit Action Network. Hip-Hop as a cultural phenomena is also about transformation and taking action to end poverty, war and ignorance. While I am endorsing Senator Obama as a private citizen, I am in complete solidarity with the transformative consciousness of the growing number artists and young people from the hip-hop generation that are overwhelmingly supporting Obama."
If you are a registered voter and live in either Texas, Ohio, Vermont, or Rhode Island, make sure you exercise your rights as a citizen and participate in your state's primary or caucus tomorrow. Out of the 2,025 delegate votes needed, Barack Obama is currently sitting pretty with 1,202 votes, while Hillary Clinton only has 1,042.
Be the first to receive breaking news alerts and more stories like this by subscribing to our mailing list.